Back to News
FPW Administrators Honoured with Blackfoot Names
Posted on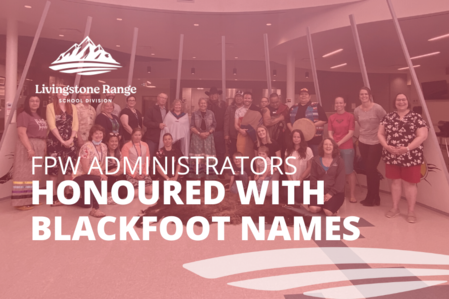 Staff from F.P. Walshe and family members of Chad Jensen (Principal) and Mary Krizan (Assistant Principal) were invited to attend a special ceremony on Monday June 6 where Maurice and Betty Ann Little Wolf gifted Chad and Mary traditional Blackfoot names. 
Over the last couple years the Elders have observed Chad and Mary taking a proactive role in learning about the Blackfoot culture and building relationships with members of the Blackfoot community.  Each has taken the time to sit with Elders, parents, and students to foster these relationships. Their commitment to addressing the educational calls to action and working towards reconciliation with staff and students has been prevalent. Mary and Chad truly care for all students and live the F.P. Walshe motto: We Are Walshe.  Everyone, no matter where they come from, no matter who they are, all belong at Walshe.
Kiaayotooma (Bear Butte) is the name given to Chad. Bear Butte is located near Rapid City, South Dakota. Bear Butte was chosen for Chad because the bear is a marker of territory the protector of all. F. P. Walshe is Chad's territory and there he is the protector of all the staff and students.
Piitaoamiinaakii (Eagle Winged Woman) is the name given to Mary, as she wraps her wings around the children with her love and guidance.
Congratulations to Mary and Chad on this honour.