Back to News
Georgia Hansen Named Assistant Principal of W.A. Day Elementary School
Posted on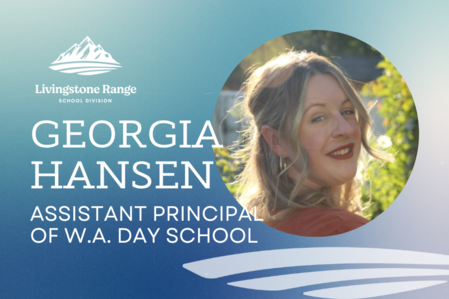 Livingstone Range School Division is pleased to announce that Georgia Hansen has been named Assistant Principal of W.A. Day Elementary School in Fort Macleod beginning in the 2023-2024 school year. 
Georgia holds Bachelor of Arts and Bachelor of Education degrees from the University of Lethbridge. She has been teaching since 2013, with a focus on English Language Arts, inclusive and special education, and indigenous programming.
Nick Beer, who has been named Principal of W.A. Day Elementary School beginning in the 2023-2024 school year looks forward to working with Georgia as school administrators. "I am very happy to have Georgia joining me on the administrative team at W.A. Day and to be beginning her journey as an assistant principal," says Nick. "Her wealth of knowledge in the area of Learning Support will be a big asset to the school!"
Georgia is also enthusiastic about this opportunity. "Since starting at W.A. Day in 2018 I've fallen in love with the community of Fort Macleod," says Georgia. "I am so excited to support students, staff, and families in a new way. I am passionate about numeracy, literacy, and place-based learning and look forward to this new leadership role."
Originally from Calgary, Georgia now lives in Fort Macleod with her husband and son. She is an avid gardener and enjoys camping with her family and walks around town with their hound dog, Merle. 
Congratulations to Georgia on her leadership role at W.A. Day Elementary School.