Back to News
Honouring Student Excellence Awards
Posted on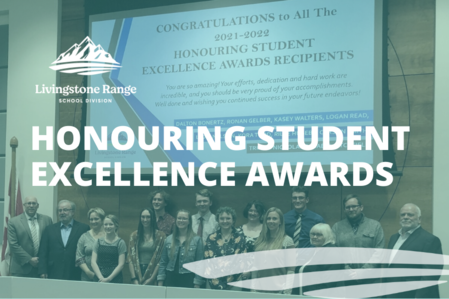 Students, parents, Trustees, and Senior Administration celebrated student achievement at the Honouring Student Excellence Awards 2021-2022 on June 14, 2022. Congratulations to these outstanding students! Your efforts, dedication, and hard work are incredible; you should be very proud of your accomplishments.
Rilee Huseby, F.P. Walshe School - winner of the ENMAX Environmental Scholarship. Applicants must have demonstrated outstanding environmental leadership and citizenship qualities as revealed by their participation in non-academic activities for the school and community throughout Grades 10, 11, and 12.
Carson Smith, F.P. Walshe School; Trinity Nicholas, F.P. Walshe School; and Isabel Litchfield, Matthew Halton High School - winners of the Alberta School Boards Association (ASBA) Honouring Spirit: Indigenous Student Award. First Nations, Métis or Inuit students are nominated by members of their education community based on their exemplary leadership, honour, courage and commitment to their own education path.
Dalton Bonertz, Matthew Halton High School; Kasey Walters, Crowsnest Consolidated High School; Logan Read, Willow Creek Composite High School; Kora Todd, J.T. Foster School; Lydia Nelson, F.P. Walshe School; and Ronan Gelber, Livingstone School were all nominees for the Dr. Lloyd Cavers Student Leadership Scholarship. 
The purpose of this scholarship is to recognize the contributions made by a student leader in
Livingstone Range School Division. The recipient's leadership abilities will have had a
positive impact, primarily at the school, but also in the wider community. The student will be
graduating from Grade 12 in his or her chosen program.
This $1,000 scholarship will be awarded annually by the Livingstone Range School Division
Board of Trustees to a recipient nominated by his or her school and selected by a committee
consisting of two Trustees and one Central Office Administrator. $200.00 will be awarded to
each of the other candidates.
Congratulations to this year's Dr. Lloyd Cavers Student Leadership Scholarship winner: Ronan Gelber!
Well done to all and wishing you continued success in your future endeavors!
Student Excellence Awards 2022