Back to News
Jennifer Hamilton Named Asst Principal at CCHS
Posted on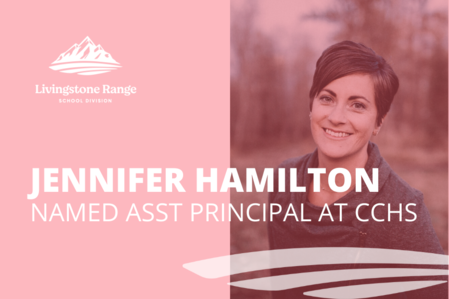 Livingstone Range School Division is pleased to announce that Jennifer Hamilton has been appointed Assistant Principal at Crowsnest Consolidated High School beginning in the 2022-2023 school year. 
Jennifer holds Bachelor of Arts and Education degrees from the University of Saskatchewan and a Master of Education (Educational Studies) degree from the University of Alberta. Teaching since 2005, Jennifer has a focus on literacy and English Language Arts, and believes in relationship-building for student success.
"Mrs. Hamilton is an experienced teacher with a diverse teaching background, extending from Kindergarten through to the post-secondary levels," says Paul Pichurski, who has been appointed Principal at CCHS beginning this fall.  "Her enthusiasm and passion for school improvement will serve the students and staff of Crowsnest Consolidated High School well. We are excited to have her join CCHS in the role of Assistant Principal for the upcoming school year."
Jennifer is excited to establish herself and her family in the Crowsnest Pass. "I look forward to building new relationships with the students and staff at CCHS," she says, "and helping every student be the best they can be. I also look forward to working with Mr. Pichurski to bring Livingstone Range School Division's priorities, mission, and vision to life."
Outside of school Jennifer enjoys hiking and walking with her four children and two puppies, or training at the gym for her next Olympic-style weightlifting competition.
Congratulations to Jennifer on her leadership role.