Back to News
Jessica Ames Named Principal at Canyon School
Posted on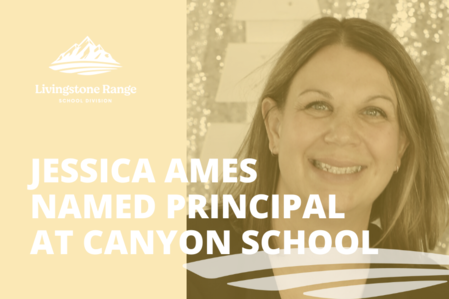 Livingstone Range School Division is pleased to announce that Jessica Ames has been appointed Principal at Canyon School in Pincher Creek beginning in the 2022-2023 school year. 
Jessica holds Bachelor of Management, Bachelor of Education, and Masters of Education degrees all from the University of Lethbridge. A teacher since 2004, Jessica has been in school administrator roles for the last 14 years including most recently as Assistant Principal at Canyon School.
"With her experience and collaborative approach, Jessica will continue to provide excellent leadership at Canyon School," says Superintendent Darryl Seguin. "We are confident that students, staff, and families will benefit from Jessica's commitment to inclusive education and relationship-building."
Honored to be selected as the Principal of Canyon School, Jessica looks forward to serving the school community in this new role. "Canyon has a highly skilled staff committed to inclusive practices, developing the whole child and doing what's best for students," says Jessica. "It is wonderful to be a part of this caring community and I am eager to continue the collaboration, strengthen relationships and grow together to best serve our students"
Jessica appreciates the many opportunities available in the Pincher Creek community to spend time with her two young daughters; they especially enjoyed swimming and playing at the Family Centre last fall. In addition to spending time with her family and friends, Jessica enjoys exploring the outdoors, jogging, and working out. Her favorite time of the day is reading books together as a family.
Congratulations to Jessica on her new leadership role.