Back to News
Jonina Millis Appointed Assistant Principal at Canyon School
Posted on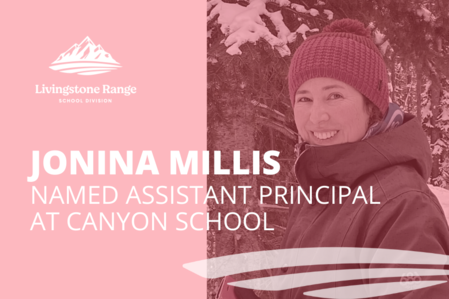 Livingstone Range School Division is pleased to announce that Jonina Millis has been appointed Assistant Principal of Canyon School in Pincher Creek beginning in the 2022-2023 school year. 
Jonina holds a BA and BEd from the University of Lethbridge and a Master of Education in Educational Studies from the University of Alberta. For more than 10 years she has taught in Livingstone Range School Division including phys ed, French, art, and Kindergarten. Since 2013 Jonina has taught Grade 4/5 at Isabelle Sellon School and has been Acting Assistant Principal of Canyon for the current school year.
"I am honoured to get the opportunity to continue on as a member of the Canyon School community in the role of Assistant Principal," says Jonina. "The students, parents, and staff were so welcoming to me over this past year, and I look forward to building on the strong relationships we have developed." 
Canyon School Principal, Paul Pichurski speaks highly of Jonina's contributions. "Mrs. Millis is an excellent teacher and a valued member of the Canyon School Community," says Paul. "She brings with her a passion for learning and school improvement that will be a support for the students, staff and community at Canyon. We are excited to have her continue in her role as Assistant Principal."
Jonina enjoys spending time reading, snowboarding, and playing music. A mother of children ages 13 and 15, Jonina spends lots of time travelling and playing games with her family, as well as walking her dog, Satsuki, in the mountains with her husband. Jonina lived in Japan for two years and has plans to return there for a visit this summer. 
"This vibrant school community is dedicated to student learning, wellness, and inclusive practices," says Jonina, "and I am so excited to get to be a member of this passionate team."
Congratulations to Jonina on her leadership role.