Back to News
Learn, Play, & Explore in Nature at Horace Allen School
Posted on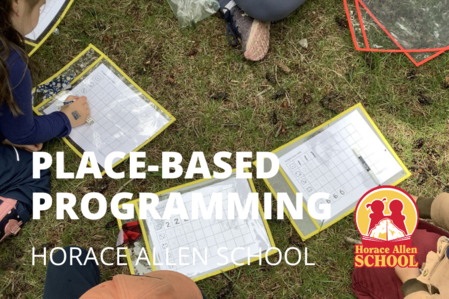 Imagine being a seven-year-old student at Horace Allen School in the Crowsnest Pass. Each day you get to spend time outside, visiting "your" tree in the forest at nearby Flumerfelt Park each week to notice any changes and look at it with a different focus – the bark, the ground around it, the leaves and needles, the smell and feel! You learn measuring skills to determine the circumference of your tree, and create an art project of your tree in the Emily Carr style. While you're in the woods, you might see deer, chipmunks, and identify different bird species. You run and play games like Fox and Geese with your friends and read books under the forest canopy in each season of the year.
Science, Math, English Language Arts, Social Studies, and PE take on an entirely new perspective in this way. It's called place-based learning, and it's a core value in Livingstone Range School Division.
Horace Allen School is a Kindergarten to Grade 3 school on a beautiful hill at the western edge of Coleman, Alberta. It's a really special place to start your educational journey, and these students are lucky enough to have school administrators and teachers who also believe in a place-based pedagogy. 
School Principal Elaine Garner explains how teachers use the local community and environment as a focal point for teaching and learning. 
"LAND (Learning and Nature Discovery) time at Horace Allen School has continued even with COVID-19 restrictions in place," says Elaine. "Students spend time each day outside,  exploring the field, playing in the loose parts area, sitting around a campfire listening to stories and playing word games, or visiting the wonders of nature in Flumerfelt Park."
During the 2020-2021 school year, the Horace Allen School Parent Council purchased an outdoor fire pit for the school. Bill Messner, CNP Fire Chief came to teach the students and staff about fire science and fire safety. The firepit area is a gathering and learning space for the school community. Now the school enjoys Fireside Fridays - no matter the weather!
"It is important that our students learn about who they can be in the place they live," says Assistant Principal Myrna Dembicki. "We can't change the rain and wind, for example, so let's instead make the most of learning about it and making it work in our lives. We live in four seasons, so we are a four-seasons school. We have awesome families that dress their kids for the weather, because we go outside, rain or shine."
Outside time includes Kindergarten students reading stories together and climbing on and jumping off of boulders; Grade 1 students participating in 'Treetop Tuesday' weekly adventures hiking on the Miner's Path and across the Bouncy Bridge to our Grade 1 Forest zone; and Grade 3 students learning about life cycles through exploration and games like 'Predator and Prey.' And all students participating in the school yard garden: watering, weeding, and harvesting vegetables they helped to plant!
"Planning for next year, we hope to get back to some more of the activities we did pre-Covid," says Myrna. "Outdoor school-wide play days of free exploration for the students, with watchful (adult) 'Play Rangers' scattered through the play areas. These magical days involve areas of the school grounds, along with several zones in Flumerfelt Park."
The newest addition to place-based learning at Horace Allen School are the outdoor classroom planter boxes. With funding through an Alberta Teachers' Association DEHR (Diversity, Equity and Human Rights) grant, Grade 2 teacher Lesley Margetak has had local high school shop classes build five planter boxes. Each box represents one of the five tribes (nations) in the school's Treaty 7 territory and will be painted with representative indigenous art. The boxes will be planted with flora native to each nation's area. 
"These will serve as our students' line up posts in the morning," says Elaine. "Each grade will be responsible for 'their' nation's' plants being watered and cared for. We envision the students learning and inquiring about 'their' plants and art leading to learning about the history of where they come from."
The students at Horace Allen School have an exceptional opportunity to play and explore in their environment as a key piece of their learning and development. What a great way to begin your schooling experience!
This is the second article in the Place-Based Programming series. Read the first article here.