Back to News
Learning in a Local Context
Posted on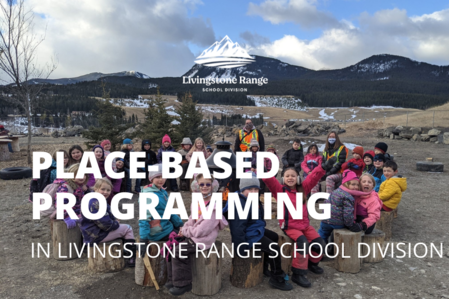 What if school wasn't just sitting at a desk, reading a textbook, or using a geometry set? What if a student's education helped them relate to the land, the environment, and their place in the world? 
Place-based learning provides an opportunity to use the local community and environment as a focal point for teaching and learning. It expands the classroom to include the world around us, and allows for individual exploration and discovery while still covering core areas like literacy and numeracy.
In Livingstone Range School Division, place-based is a core value. "We understand that we live in one of the most special and beautiful places in the world," says Chad Kuzyk, Associate Superintendent of Curriculum and Innovation. "Because of the proven benefits of place-based learning, we want to ensure that we capitalize on our unique location to help students thrive."
From a high school Outdoor Pursuits program in the Crowsnest Pass to farming and ranching work credits in Claresholm and Nanton, to Indigenous Ways of Knowing opportunities for students across the jurisdiction, Livingstone Range School Division is committed to providing exceptional place-based programming.
This 5-part article series on Place-Based Education will explore some of the remarkable opportunities for students, focusing on our three schools in Crowsnest Pass. We will discover how Grade 2 students at Horace Allen School in Coleman select "their" tree in the forest and visit it weekly to learn about science, math, reading, writing, and art. We will visit Isabelle Sellon School in Blairmore to learn about their W.I.L.D. time activities and community connections. At Crowsnest Consolidated High School in Coleman we will see how high school students earn credits in the Outdoor Pursuits class. Finally, we will explore some of the opportunities for students to receive training, certification, and even credits in exciting courses like avalanche safety, plant identification, ski/snowboard instructor training, and first aid through the LRSD Pursuits program.
Come see how school is so much more than a classroom with place-based learning.