Back to News
MHHS Hosts Cross-County Zones
Posted on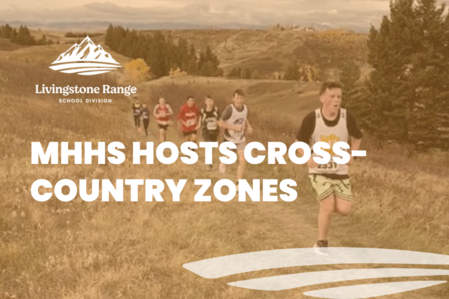 Nearly 1,000 Grade 7-12 runners from across southern Alberta came to Pincher Creek on a beautiful fall day to complete in the Alberta South Zone Cross-Country competition. On October 11, 2023 Matthew Halton High School (MHHS) hosted Zones, with more than 60 Livingstone Range School Division (LRSD) students competing.
Randy Whitehead, MHHS teacher and the event's organizing chairperson, appreciates the inclusive nature of the sport. "Anyone can do cross-country. It's a great way for 'Every student, every day' to stay active!"
The southern zone takes in students from the Saskatchewan to BC to US borders and north to Vulcan and Nanton, and they were in awe of the natural surroundings where Matthew Halton High School students run.
"Showcasing what our kids train on was awesome!" says Whitehead. "With the mountains and beautiful scenery, we're very fortunate to be able to train here."
The Pincher Creek community provided exceptional support for the competition. MHHS sends a big thank you to all the volunteers and sponsors, including:
Robin & Co. Accounting
COOP Grocery
The Hut
Superform
Fountain Tire
The Alberta Hotel
Vision Credit Union
South West Waste Management
Ascent Dental
Gee's Electric
Crow Signs
LRSD students did very well at Cross-Country Zones, with 13 runners heading to Provincials in Trochu on October 21. We wish them all the best!
2023 Cross-Country Zones