Back to News
Nick Housenga Serves on Minister's Youth Council
Posted on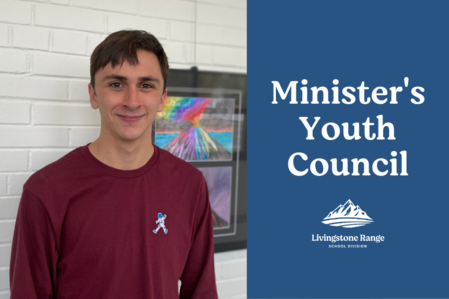 For the second year in a row, F.P. Walshe School student Nick Housenga is helping shape the future of Education in Alberta. As a two-time member of the Minister's Youth Council, Nick joins 40 other junior and senior high school students from across Alberta to provide their perspective on education topics and issues.
"I really enjoy meeting new people from across Alberta," says Nick. "I like connecting with this very supportive group and building on each other's ideas."
The Minister's Youth Council meets three times per school year - and the October 2-5, 2020 meeting was done virtually due to the COVID-19 pandemic. Depending on the pandemic status, the February and May 2021 meetings may be held in person in Edmonton.
The meeting sessions include topics such as educational policy and initiatives, leadership, mental health, educational technology, and transportation. Nick and the other council members also get to ask Education Minister Adriana LaGrange specific questions about education in the province.
On October 14, 2020 Nick, who is in Grade 12, shared his experience on the Minister's Youth Council with the Livingstone Range School Division Board of Trustees. Impressed with his work and leadership, the Trustees asked questions about Nick's experience and complimented him on his work.
Board of Trustee Chair Lori Hodges stated the importance of Nick's contributions. "Thank you for providing a student voice through the Minister's Youth Council," she said. "It's crucial for the government to hear that voice as they make decisions."