Back to News
Place-Based Learning with Nature Conservancy of Canada
Posted on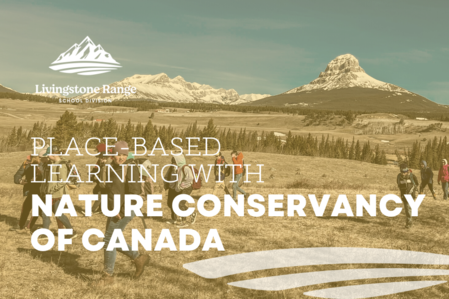 Grade 6 students from Canyon School have recently explored the Castle-Crowsnest area with Nature Conservancy of Canada, an organization committed to conservation of the natural world.
Canyon School Grade 6 teacher Derek Shackleford saw the Trees & Forests unit in the Grade 6 curriculum as an opportunity to help students have a unique experiential learning opportunity. Working with the Nature Conservancy of Canada's local natural area manager, Emilie Brien, Derek took two Grade 6 classes on a field trip that helped students connect themselves to learning and nature.
"I think the beauty of place-based learning is seeing the engagement and enthusiasm from the students," says Derek. "I find that place-based learning provides opportunities that not all students get on their own and gives them all a stronger sense of place and respect for the environment. It is also a great way to infuse Indigenous Ways of Knowing in student learning."
Nature Conservancy of Canada shared an article about their experience with the Canyon School Grade 6 students on their website.
For more information about place-based programming in Livingstone Range School Division click here.