Back to News
Randy Bohnet Named Acting Principal of Granum School
Posted on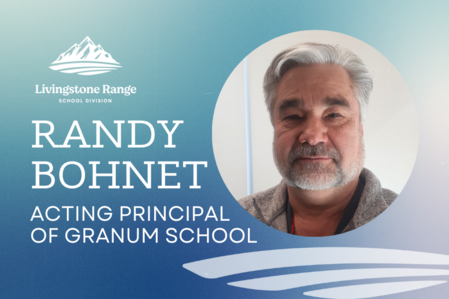 Livingstone Range School Division is pleased to announce that Randy Bohnet has been named Acting Principal of Granum School beginning in the 2023-2024 school year. 
Randy holds a Bachelor of Arts degree from the University of Calgary, Bachelor of Education from the University of Lethbridge, and Master's of Educational Leadership from the University of Calgary. He has been in administration roles with LRSD since 2003 and has been Assistant Principal of Granum School since 2020. 
Superintendent Darryl Seguin is certain Randy's leadership will continue to benefit Granum School. "As assistant principal at Granum School over the past few years Randy has been able to develop positive relationships with students, parents and staff," says Darryl. "Having him shift roles to fulfill the acting principal position will provide the school community with continuity next year. I'm confident that Randy's extensive K-12 school administration experience will serve the school well."
Randy is happy to continue serving the Granum School community and says, "I believe that students learn best in environments where they feel safe, cared for and heard. Granum has such a caring staff, supportive community, and great kids. I look forward to continuing to enrich that culture where students' voices direct their own learning so they can become the leaders of themselves and others that we know they can be."
Randy has always been involved with athletics of just about every kind, and he now puts his energy into coaching and playing pickleball and golf. He also spends time outdoors hiking, fly fishing, tying flies, boating, traveling, tinkering with old cars and motorcycles, and spending time with his wife and 9 grandkids. 
Congratulations to Randy on his new leadership role at Granum School.