Back to News
Rick Visser New Interim Transportation Coordinator
Posted on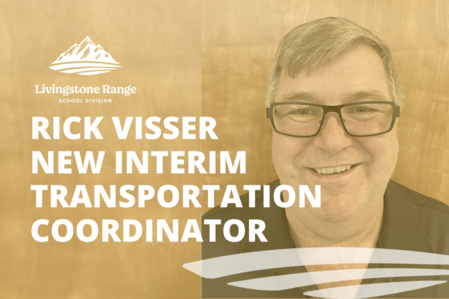 Livingstone Range School Division is pleased to announce that Rick Visser has been appointed interim Transportation Coordinator and will begin his role on December 6, 2021.
Rick has worked with LRSD since August 2019 as the mechanic in the Pincher Creek bus shop as well as assisting the Transportation Department with dispatching and bus retrieval. Prior to that he worked as a mechanic and service manager for First Student. With this experience, Rick knows busses inside and out.
"Rick has always maintained an excellent shop, is thorough in his work, and has realized savings for the Division through his maintenance of buses," says Jeff Perry, Associate Superintendent of Business Services. "We are excited to have him as the Transportation Coordinator through June 2022."  
Looking forward to this role, Rick is happy to meet new people and seek new opportunities. " I am looking forward to meeting all the drivers and Division employees that I've heard about but never met," says Rick. "I also look forward to the many challenges such as getting to know where each bus goes every day, keeping up with the charters and extra sports trips, and working in an office instead of a shop."
When he's not working with and on buses, Rick can be found camping, fishing, and golfing in the summer; hunting in the foothills in the fall; and playing darts across the province in the winter.
Congratulations to Rick on his new role.