Back to News
Ski Academy Ready for Another Season
Posted on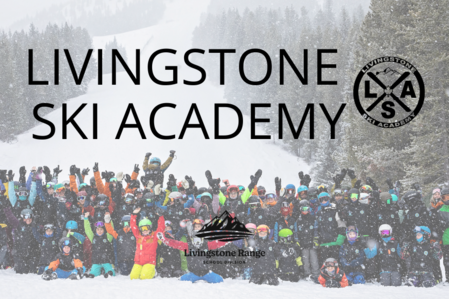 Students in the Livingstone Ski Academy have a different classroom than most: the ski slopes! Since 2016, LSA has been changing how students experience their education while redefining what it means to be a ski academy. With a few modifications due to the COVID-19 pandemic, school on the hill starts today!
Livingstone Ski Academy (LSA) is an innovative, one-of-a-kind, public education school program. Based out of Livingstone School in Lundbreck Alberta, LSA serves student-athletes from several communities including Crowsnest Pass, Lundbreck, Pincher Creek, and Beaver Mines. LSA staff and students are extremely fortunate to have access to what is arguably some of the best ski and snowboarding terrain in the world. An innovative partnership with Castle Mountain Resort enables LSA student athletes to receive professional coaching twice a week for grades four to six and three days a week for grades seven through twelve all season long. 
During December 2020 and January 2021, when academic classes for Grade 7-12 students across Alberta are done virtually at-home, all LSA students will still be able to access the skill hill for the instruction and skill development portion of their schedule. Once COVID-19 restrictions are eased, students' regular school schedules will resume - and they will still be out on the slopes!
Boasting a wide range of training options for our skiers and boarders — including developmental, freestyle, alpine and big mountain — cohorts of LSA skiers and boarders can be seen sharpening their technique on piste, or floating through the powder with their friends from the far north to the legendary glades on Haig most days of the week.
"I wish LSA existed when I was a student," says LSA Coordinator Jason Clifton. "I am extremely proud to be part of this engaging and innovative educational program that blends quality education with student passion for the outdoors and athletics" 
Although skiing and snowboarding are major components of LSA, it is far more than just a snow sports program. The LSA promotes student engagement, an active lifestyle, strong connections to the outdoors and student excellence beyond academics. All LSA students participate in a special program that offers a holistic approach to student development. Focusing on five specific domains, the program called the Continuum of Learning includes academic, personal interests, career preparation, personal wellness, and community service.
"The ski academy has opened so many doors and is continuing to provide opportunities for me as I begin high school. I went to another school before joining and I really didn't have a lot of incentive to go to school. When the ski academy started, it really began to make school fun and exciting" Student Regan Kuzyk.
LSA prides itself on being inclusive; through fundraising, grant writing, and sponsorship efforts, the LSA is perhaps the most accessible ski academy in the country. LSA is available to all of Livingstone School students. The only prerequisite to join LSA is a passion for the outdoors and a love of snow sports. 
"Joining LSA is one of the best decisions I have ever made. My skiing improved drastically, I made incredible friends and I look forward to every day" student Alina Pharis.
Through community partnerships, LSA is able to offer unique learning opportunities and possible career connections for our students including our Canadian Ski Instructor Level 1 mentorship course, specialized athletic/fitness development classes, Avalanche Safety Training Certification, and our Coach Development Program. 
"Successful and collaborative school-community partnerships are rare, and are greatly valued as they serve to engage school communities," says Livingstone Range School Division Superintendent Darryl Seguin. "It's wonderful to see parents, students, schools and community members working together to create positive living and learning environments for today's youth." 
For more program information including registration, visit www.livingstoneskiacademy.ca.