Back to News
Thank You for Your Participation
Posted on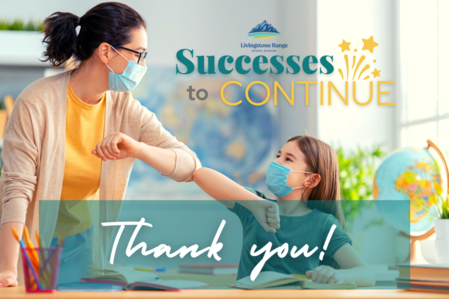 Even though it's been a challenging year, we know there have been a lot of really positive things happen in our schools. We asked staff and parents/guardians to share what great things they've seen that they would like to see continue. Student leaders were invited to participate in a separate Thoughtexchange to share their perspectives.
We asked the question, "Reflecting on this challenging school year during the COVID-19 pandemic and planning for next year, what successes have you seen in our schools that we should seek to continue?"
From June 1 to 6, 143 staff/parents shared 129 thoughts, and 2,228 ratings in our online Thoughtexchange tool. Twenty-two student leaders shared 12 thoughts and 47 ratings in their Thoughtexchange experience.
The comments showed practices and attitudes that align with our Mission, Vision, and Core Values and have contributed to a healthy and happy learning environment for students, including:
Fostering relationships
Acknowledging & supporting mental health
Communicating transparently & with timeliness
Being flexible & adaptable
Keeping the school (& students!) clean
Using technology appropriately
Staying home when we're sick
View the Staff/Parents report and see all the thoughts and ratings. Click here to view the Student Leader report.
Thank you to all those who participated. We will use your feedback at the Division and school levels to help plan for the 2021-2022 school year.