Back to News
Two Mental Health Therapists to Support Students
Posted on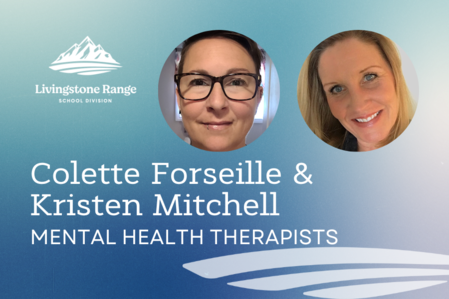 Livingstone Range School Division is pleased to announce two new mental health therapists, hired to support students across the Division. We welcome Colette Forseille (pictured, left) and Kristen Mitchell (pictured, right) to our mental health team.
Colette holds a Bachelor of Science degree in Psychiatric Nursing from Brandon University and a Master's of Counselling Psychology degree from Yorkville University. She has worked in public education and mental health in Alberta and Manitoba, and has 18 years of experience working with school-aged children, youth, and their families. Most recently she has worked as the Family School Liaison Counsellor at Livingstone School (Lundbreck). 
Colette is a Métis woman, originally from northern Manitoba. Her families originate from the farmlands of Saskatchewan and the shores of southern Manitoba. She is a mother of four and a grandmother of two and says that her family dog is definitely the biggest baby! "I am extremely pleased to be chosen to fill this new role," says Colette, "and look forward to gaining knowledge and sharing experiences with individuals and families in the Pincher Creek and Fort Macleod area."
Kristen holds a diploma in Social Work from Mount Royal University, as well as Bachelor of Social Work and Master's of Social Work (Clinical Specialization) degrees from the University of Calgary. For more than 10 years she has predominantly served both community agencies and Alberta Health Services and continues facilitating virtual Dialectical Behavioral Therapy (DBT) groups for Alberta and Ontario adults. 
Kristen is passionate about creating art, gardening, travel, and food in her spare time. She enjoys spending time with family and friends, making memories, and engaging in new adventures. "I am looking forward to seeing the world through a student's lens," says Kristen, "and helping support and nurture healthy and meaningful relationships in the process."
Both therapists will provide culturally appropriate and evidence-informed practices in crisis intervention, assessment, referral, and intervention services for students and their families. They may also support consultation and professional development activities within the division. 
"We recognize the importance of having mental health therapists available to our students," says Holly Stewart, Clinical Team Lead with LRSD. "Oftentimes the ability to access these supports may prove difficult due to travel logistics or financial barriers. Having Colette and Kristen join our division and be able to provide these essential services directly and in a flexible, timely manner to our students and their caregivers in the school setting is truly exciting."
It is thanks to the Mental Health in Schools Pilot Grant from the Alberta Government that these temporary positions are available. Positions go until December 31, 2024.
Congratulations to Kristen and Colette on their new roles!