Back to News
Getting W.I.L.D. at Isabelle Sellon School
Posted on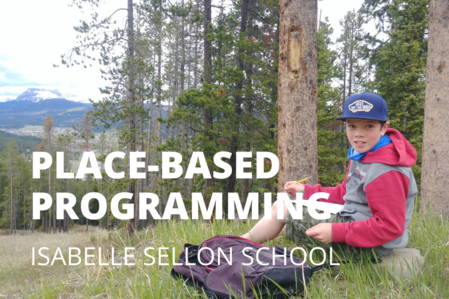 Things are "W.I.L.D." at Isabelle Sellon School in Blairmore.

"W.I.L.D. stands for 'Wonder About the World', 'Imagine Our Dreams', 'Live in Nature', and 'Do Caring Things'," says Assistant Principal Meipsy Shackleford. "Our students have W.I.L.D. time each day and they love it."
Nestled at the base of the Pass Powderkeg Ski Area, the Grade 4-6 school is surrounded by some of the most amazing Rocky Mountain forests, peaks, and wildlife in Canada. This natural setting inspires the school's philosophy of place-based learning.
Principal Marnie Davidson explains how Isabelle Sellon School began this place-based learning journey three years ago. "Stakeholders and school staff had the desire to bring innovative learning experiences to our learners that would place priority on rich, inquiry-based learning opportunities and recognize the support and contributions of community partners," says Marnie. "It is a purposeful and intentional shift to move education from traditional practices to transformative practice."
Along with the two other Livingstone Range School Division schools in the Crowsnest Pass — Horace Allen School and Crowsnest Consolidated High School — Isabelle Sellon School is part of a joint research project with the University of Lethbridge and Memorial University. The project is designed to explore, document, and examine the value of teachers using the local community and environment as a focal point for teaching and learning.  
"We currently have 6 teacher staff members involved in this cohort to improve practice associated with place conscious pedagogy in our school," says Marnie.
The three schools have also been working with Mount Royal University and the Changemakers Studio Social Innovation Lab to increase youth connection and belonging to their communities. This project work has resulted in a "school as basecamp; community as classroom" philosophy. 
So what does that look like in their school?
Community connection is one of our core values. Students across Grade 4-6 extend learning beyond the classroom into our community. Classrooms have worked with community partners such as Forestry, the local food bank, Crowsnest Heritage Society, the Art Gallery, Crowsnest Conservation Society, Pass Powderkeg, the Municipality of Crowsnest Pass, local newspapers and many other local groups and businesses to apply conceptual understanding to authentic experiences with the people and places they know.  All students have a journal to express their ideas, reflections and curiosities through words and pictures to capture their learning. 
Highlights from the "school as basecamp, community as classroom" philosophy this year have included seasonal forest spots, local wetlands exploration, historical walking tours, and outdoor classroom time. All Isabelle Sellon students have the opportunity to learn from guest speakers, visit local places, and explore the natural environment around them. 
Connecting classrooms to the community is part of the learning experience at Isabelle Sellon School. Truly, the W. (Wonder) I. (Imagination) L. (Live in Nature) D. (Do Caring Things) culture makes Isabelle Sellon School a great place to be.
This is the third article in the Place-Based Programming series. Read the first and second articles here.