Bus Drivers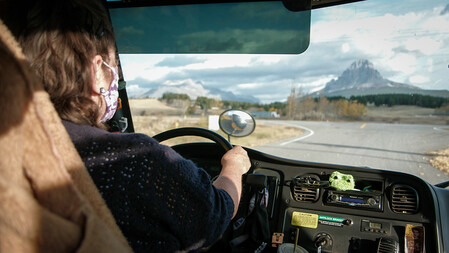 Our bus drivers are an important part of education in Livingstone Range School Division. They safely transport 1,600 students to and from school each day, across a division that spans more than 9,500 square kilometers. Be part of our dedicated team and enjoy a rewarding career.
Bus Driver Information Nights
Join us for a short presentation, talk to a current bus driver, and ask your questions about driving school bus with Livingstone Range School Division. Plus, there will be refreshments and door prizes!
Crowsnest Pass (Crowsnest Consolidated High School, 8901 20 Ave, Coleman) - Tuesday, January 19 at 7pm
Pincher Creek (Matthew Halton High School, 945 Davidson Ave) - Thursday, January 21 at 7pm
Nanton (J.T. Foster High School, 2501 22 St) - Tuesday, January 26 at 7pm
Claresholm (Willow Creek Composite High School, 628 55 Ave W) - Thursday, January 28 at 7pm
Fort Macleod (G.R. Davis Administration Building, 410 20 St)  - Tuesday, February 2 at 7pm
Virtual Session Wednesday, February 3 at 7pm
All in-person sessions will follow COVID-19 safety precautions.
SAVE YOUR SEAT! To RSVP call Phil at 403-625-1027 or email edwardsk@lrsd.ab.ca.
Qualifications to Become a School Bus Driver
Clean Driver's Abstract
Clean Police Intervention/Vulnerable Sector Check
Class 1 or Class 2 license (training provided for successful applicants)
Confident driver
Safety-oriented, dedicated, and punctual
Apply Now to Become a Bus Driver
To apply, submit the following by mail (LRSD Transportation Department, PO Box 1810, Fort Macleod, AB T0L 0Z0) or by email (edwardsk@lrsd.ab.ca):
A completed application form
A Driver's Abstract (5 years)
Cover letter and resume with any additional information relevant to this position
For more information, contact Phil McGale 403-625-3356.
Refer a Friend to Become a Bus Driver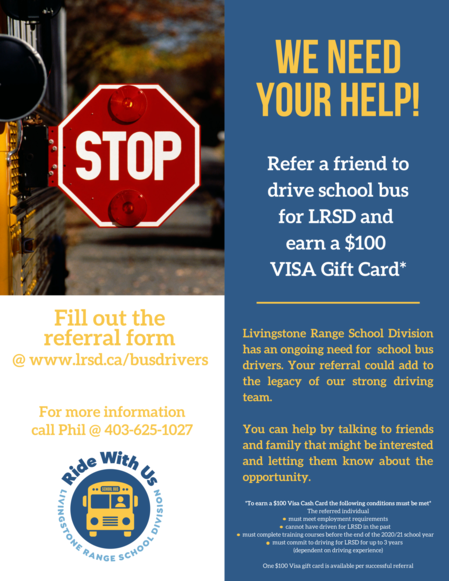 Do you know someone who would be a great school bus driver? It's ideal for retirees, self-employed individuals, stay-at-home parents, and those looking for a rewarding career with summers and holidays off.
Refer a friend to drive school bus for LRSD and earn a $100 VISA Gift Card!*
*To earn a $100 VISA Gift Card, the referred individual must meet employment requirements, cannot have driven for LRSD in the past, must complete training courses before the end of the 2020/2021 school year, and must commit to driving for LRSD for up to 3 years (dependent on driving experience). One $100 VISA Gift Card is available per successful referral.
Bus Driver Videos
We have the best bus drivers! Listen to four of them share their experiences driving for Livingstone Range School Division.
Bus Driver Forms
Administrative Policies and Procedures for Bus Drivers