Bus Drivers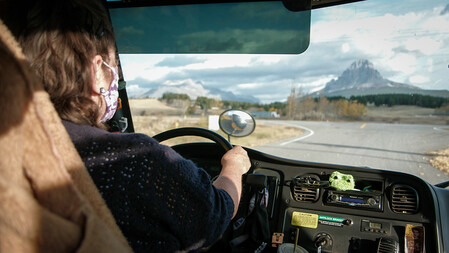 Our bus drivers are an important part of education in Livingstone Range School Division. They safely transport 1,600 students to and from school each day, across a division that spans more than 9,500 square kilometers. Be part of our dedicated team and enjoy a rewarding career.
Qualifications to Become a School Bus Driver
Clean Driver's Abstract
Clean Police Intervention/Vulnerable Sector Check
Class 1 or Class 2 license (training provided for successful applicants)
Confident driver
Safety-oriented, dedicated, and punctual
Apply Now to Become a Bus Driver
BUTTON HERE FOR LINK TO PDF APPLICATION FORM
For more information, contact Phil McGale 403-625-3356.
Refer a Friend to Become a Bus Driver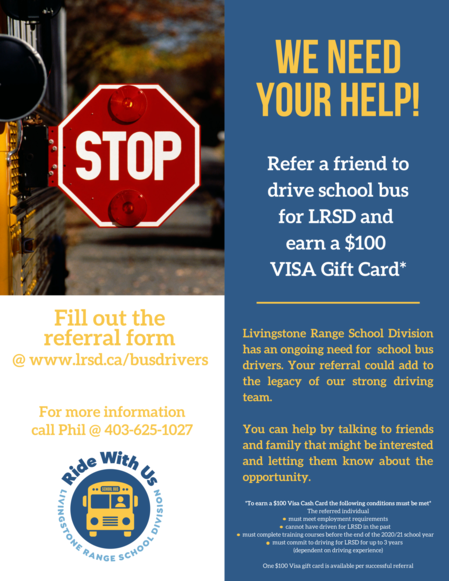 Do you know someone who would be a great school bus driver? It's ideal for retirees, self-employed individuals, stay-at-home parents, and those looking for a rewarding career with summers and holidays off.
Refer a friend to drive school bus for LRSD and earn a $100 VISA Gift Card!*
*To earn a $100 VISA Gift Card, the referred individual must meet employment requirements, cannot have driven for LRSD in the past, must complete training courses before the end of the 2020/2021 school year, and must commit to driving for LRSD for up to 3 years (dependent on driving experience). One $100 VISA Gift Card is available per successful referral.
Bus Driver Forms
Administrative Policies and Procedures for Bus Drivers