Back to News
School-Community-Environment is Key at CCHS
Posted on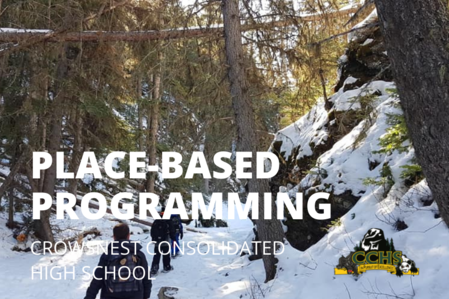 Crowsnest Consolidated High School (CCHS) sits at the foot of the Rocky Mountains and their geography and community provide numerous opportunities for students to participate in place-based learning.  
In the spring of 2018 CCHS began a conversation with the Crowsnest Pass community and over the last three years have completed the "Learning for Life, Ready for Change" project with the three Crowsnest Pass schools and community partners.  
Christine McKie, Principal of CCHS explains the value of the project. "The process involved over 150 community stakeholders, youth, and staff from the education system contributing to a new vision of education in the area," says Christine. "The schools and community partners will now establish a governing body that will focus on the idea of 'school as basecamp - community as classroom' — a philosophy and approach that will engage students in 'real world' learning."
The value of learning through the connection of school-community-environment is being studied with help from local teachers. Several CCHS staff members will be working on a year-long project with Sharon Pelech (University of Lethbridge) and Darron Kelly (Memorial University of Newfoundland) to explore place-conscious pedagogy. Throughout this experience teachers will collaborate on how best to adapt this approach in a high school setting.  
So what does place-based learning look like? The Outdoor Pursuits program is a course that creates incredible opportunities for students enrolled in the class. These students spend many afternoons at Pass Powderkeg receiving professional coaching from their staff, learning about avalanche safety, backcountry snowshoeing, hiking, trail management, being Bear Aware (using bear spray), swimming at the local pool, and many other activities that take advantage of the area's incredible outdoor environment.
"We're really excited to expand our Outdoor Pursuits programming to include more students from our school," says Christine. "In 2021-2022 CCHS will offer four different courses for our students: Junior High Fall Outdoor Pursuits, Junior High Winter Outdoor Pursuits, Junior High Spring Outdoor Pursuits, and Senior High Outdoor Pursuits." 
Engaging in local history is also important at the school. CCHS Social Studies classes work closely with the local Legion on projects related to armed conflict, the Geneva Convention, while also learning about the rich history of the Crowsnest Pass through visits to the local museum, explorations along Miner's Path, and guest speakers in our classrooms.
This year's Grade 7 students participated in Wonder Walks, typically done in kindergarten but just as fun and educational for the older youth. This was an excellent springboard for learning about indigenous ways of knowing, local land forms, and using the beautiful views outside our doors as prompts for writing assignments.
CCHS maintains a partnership with a school in Kitee, Finland where students travel overseas to learn about the Finnish culture and school system there. The school in turn hosts their Finnish friends here in the Crowsnest Pass for a rich and meaningful global exchange.  Junior high students also hit the road traveling to other parts of the nation through Experiences Canada.
Looking to create career mentorship opportunities for our students, CHHS is keen to increase their partnerships with the business and non-profit community in the Crowsnest Pass. "We see our students working on various projects alongside local professionals to gain valuable insight and practical hands-on experience in areas of personal interest," says Christine. 
The benefits of place-based programming for students and the community is both broad and deep. Connecting to the natural setting and the community and history of the area creates an exceptional learning opportunity for students at Crowsnest Consolidated High School. 
This is the fourth article in the Place-Based Programming series. Read the first, second, and third articles here.