Back to News
Learning in Nature & Preparing for the Future with LRSD Pursuits
Posted on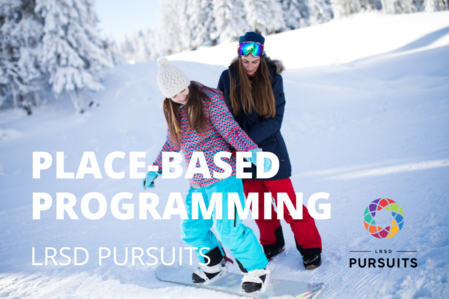 "One of the core values of Livingstone Range School Division is place-based learning," says Tara Tanner, principal of LRSD Pursuits. "To complement classroom education, we aim to offer students incredible opportunities for learning in and about our natural environment as well as preparing them for future employment opportunities."
LRSD Pursuits oversees flexible and experiential student learning for LRSD students in such areas as virtual school, home education, summer school, diploma preparation, and off campus experiences. LRSD Pursuits also offers exciting pre-employment and place-based programming to enhance students' educational experience.
Pre-employment programming offers students opportunities to earn skills and certifications that will prepare them for jobs both now and after graduation. Some of these opportunities cross over into place-based programming, as they prepare students for jobs in their local environments. For example, the ski/snowboard instructor training program lets strong skiers and snowboarders gain the skills necessary to begin their role as an instructor. 
There is a breadth of LRSD Pursuits place-based programming for young people, where personal growth and development in a southwestern Alberta context creates a high level of engagement. Students as young as Grade 6 can learn about map reading, using a compass and topographic maps to trip plan, and navigational technology - all useful skills if you're passionate about outdoor adventures. Younger students become scientist-in-training on a science ice walk, and those in Grade 7 and up learn the different parts of a wildflower in order to learn how to identify plants on a nature hike.
For many of the place-based opportunities, LRSD has partnered with Uplift Adventures, based in the Crowsnest Pass. Their certified professional guides and instructors ensure a curriculum-based program and mentorship experience for students. 
"Place-based programming helps students connect their learning to nature and the environment as they develop lifelong skills," says Tara. "And in many cases they can even earn high school credits!"
One exciting course offering is Avalanche 1 Training. Participants must be 16 years of age to receive this certification, which takes place at Castle Mountain Resort. Through one day of classroom work and one day of hands-on work in the field, students learn avalanche skills training and principles of winter backcountry travel from safety experts. 
As students connect to the world around them and discover their passions, many opportunities open for their future for employment, recreation, and well-being. Offering place-based programming such as the courses and certifications through LRSD Pursuits helps students understand the world and their place in it through a unique lens. 
Find out more about the programming LRSD Pursuits has to offer by visiting lrsd.ca/pursuits.
This is the fifth article in the Place-Based Programming series. Read the first, second, third, and fourth here.