FNMI Role Models
Indigenous graduates from Livingstone Range School Division share their stories to inspire students to work hard in school and plan for a successful future.
Hadiga Little Wolf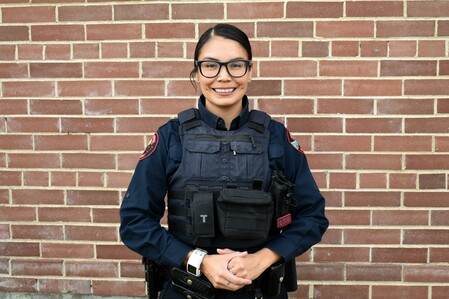 Wearing her uniform as a Senior Constable with the Blood Tribe Police Service, Hadiga Little Wolf looks like someone who means business. But as soon as she smiles, you know that this woman is not only tough and determined, but also warm and compassionate.
Hadiga is a member of the Piikani Nation and growing up with an RCMP dad, she knew that she wanted to go into law enforcement.
"My dad would have RCMP members over all the time for a meal or coffee," she says. "I would see these strong people who were very kind and humble, and I knew that is what I wanted."
Despite challenges and difficult circumstances growing up, Hadiga focused on her dream and worked hard. She believes that regardless of your circumstances, you can change them.
"No matter what past you have come from," Hadiga says, "anything is possible for you! Even when you are the quietest in the room, be the loudest through your knowledge and beliefs."
Hadiga graduated from F.P. Walshe in 2000. Now as Senior Constable she is part of the group of indigenous people helping encourage and inspire the next generation. She believes in the power and value of education, saying that "knowledge helps in standing up for your beliefs, learning about the world, and knowing how we can help people who need it."
Abby Morning Bull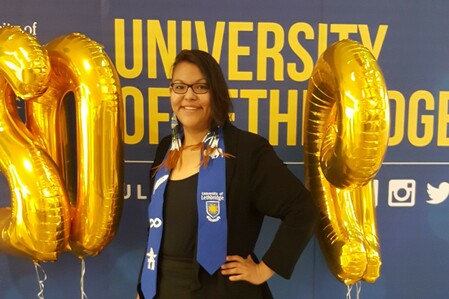 For Abby Morning Bull, education is an investment in one's self.
"Education can open so many doors to different opportunities and experiences," Abby says. "There is a world to discover, and education can help you see it."
A 2007 graduate of Matthew Halton High School, Abby went on to post-secondary at the University of Lethbridge, graduating in 2014 with a Bachelor of Arts in Native American Studies. She feels that two habits that have contributed to her success in education are showing up even when she didn't feel like it, and being present in class and getting to know her teachers and instructors.
Abby - a member of the Piikani Nation - encourages high school students to try hard and achieve their goals. "Even if you don't think you want to go to post-secondary right away, having your diploma is a key to open doors when you're ready."
In her current role as a Learning Facilitator for the Indigenous Student Success Cohort at the University of Lethbridge, Abby loves supporting students in their academic goals and has become a role model and leader for indigenous students.
"You may not know it," Abby says, "but there are so many of us cheering you on. We celebrate your successes and are working to get the world ready for you."
Julian Black Antelope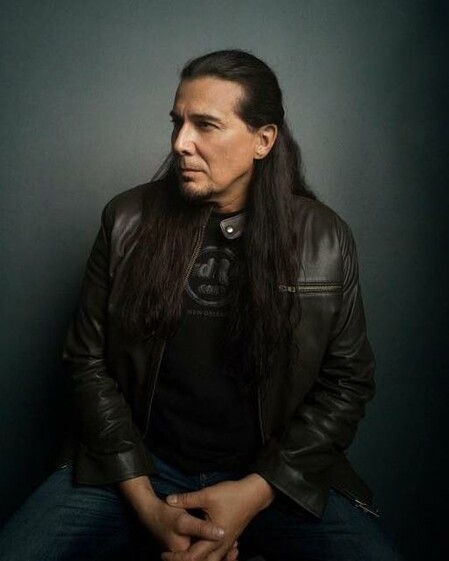 "Be a sponge," says acclaimed actor, writer, director, and producer Julian Black Antelope. "Learn everything you can."
Black Antelope graduated from F.P. Walshe High School in 1987 but it wasn't until seventeen years later that he found his passion in film and television. With no formal training, Julian learned the ropes of the acting and filmmaking through trial and error, learning as much as he could from doing and from the people around him.
"Remember, there is no such word as FAIL," says Julian. "It really is an acronym for F-irst A-ttempt I-n L-earning."
Julian credits his parents for helping him develop his positive attitude and perseverance. His father's work ethic and ingenuity along with his mother's encouragement to see the positive side of things and to try, try again have helped him achieve the success he has today. As an indigenous person, Julian is also inspired by First Nations culture and traditional teachings. "They are the foundation of everything I do," Julian says.
Learning and experience, Julian believes, is like having a shop full of tools you can use to build anything. "Education - tools - come in many forms. The key to being able to recognize and apply those tools to your own situation and make it work," says Julian. "Think of education resources available to you as an arsenal of tools and weapons you'll need in life."
A member of the Blackfoot nation, Julian believes that film and television portrayals of First Nations people go hand-in-hand with achieving real-world reconciliation. He sees opportunity in the entertainment industry to develop Indigenous stories and change outdated perspectives of First Nations people on the screen and in real life. 
His advice for students today is to choose the good things and your world will turn. "Never take your eye off the prize."
Find out more about Julian at julianblackantelope.com.