PEAKS Campus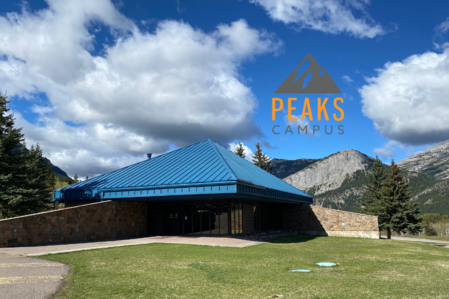 PEAKS Campus in the Crowsnest Pass is an exceptional home base for place-based student programming. Located on 4.62 acres of land approximately 6 kilometres west of Coleman on the south side of Highway 3, the facility provides immediate access to the spectacular Rocky Mountains.
The acronym PEAKS stands for Place-based Experiences, Adventures, and Knowledge for Students, which describes the rich opportunities that await students at the site. The word "campus" speaks to our purpose of education and of the site's potential for future buildings and learning spaces.
The property, which was purchased by Livingstone Range School Division in 2021, hosts the FACES Summer Education program, student leadership retreats, pre-employment certification programming, staff professional development sessions, and school class learning including outdoor education, environmental education, indigenous programming, and arts experiences.
Facility At-A-Glance:
Approximately 800 sq ft building
Restrooms
Kitchen
First Aid supplies
Ample parking on asphalt lot
3 concrete picnic tables
Technology to facilitate classroom-style learning
Quick access to forests, mountains, and water activities
This unique site is available for all LRSD staff to book, creating year-round opportunities for students and staff. Booking details are found on the staff intranet.
PEAKS Campus Grand Opening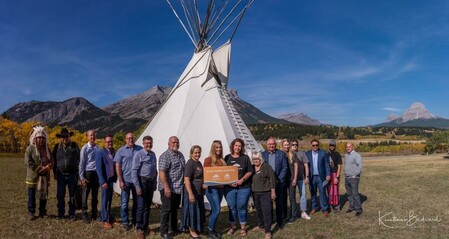 On a picture-perfect fall afternoon on September 28, 2022 Livingstone Range School Division celebrated the grand opening of PEAKS Campus. The program was MC'd by student leader Mackinley Mallard and we were pleased to have Elder in Residence, Joe Eagle Tail Feathers offer a prayer and blessing as part of the opening ceremony. Board Chair Lacey Poytress shared a message about how PEAKS Campus will help fulfill our vision of "Every student, every day."
Greetings from the provincial and local governments, respectively, were brought by Livingstone-Macleod MLA Roger Reid and Municipality of the Crowsnest Pass Mayor Blair Painter. Superintendent Darryl Seguin shared the history of acquiring the property and a look into the future of hope and possibility for place-based learning and experiences for students. A grade 4-6 choir from Isabelle Sellon School under the direction of Annemarie Neudorf sang several beautiful musical numbers to round out the official ceremony.
After the program, guests visited stations around the Campus that highlighted some of the place-based experiential learning opportunities available to students under the direction of Place-Based Supervisors Joel Gamache and Jason Clifton. The FACES summer education program - which is based at PEAKS Campus - also had a station to showcase the experiences available for students who attend FACES.
We are grateful for the hard work of our amazing LRSD maintenance team, LRSD Pursuits Divisional Principal Tara Tanner, and all those who helped make this day so special.
See a gallery of photos from the grand opening at the bottom of this page.
Take a Virtual Tour
Check out our Crowsnest Pass site on a beautiful winter day.
Aerial footage courtesy of Derek Shackleford
PEAKS Campus Grand Opening