Elections
The municipal election is Monday, October 18, 2021.
Notice of Election
Notice for filling two vacancies in Ward 3 for School Board Trustee in election on October 18, 2021.
Official Nomination Results
The 2021 School Trustee Nomination summary listed those Trustees declared elected by acclamation and those nominated for election on October 18, 2021.
Elected School Board Trustees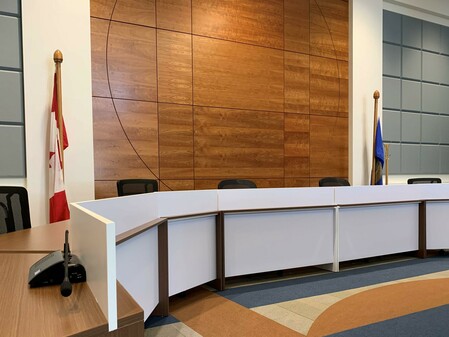 Through the Education Act, Alberta's legislation has delegated some authority for the governance of education to school boards. As statutory corporations, school boards have obligations to perform and they have been given powers to carry out these tasks.
The citizens of our Wards elect Trustees to govern The Livingstone Range School Division (LRSD) on their behalf. Trustee elections occur every four years, during the same time as municipal elections.
The role of the Trustee is to be a contributing member of the Board as it carries out its governance mandate in order to achieve Livingstone Range School Division's mission.
Livingstone Range School Division promotes and encourages its interested citizens to run for the office of elected school board Trustee. The Division is committed to providing an environment that will give all candidates fair access to the electorate.
The next Trustee election will be held on October 18, 2021.
Become a Trustee
The Local Authorities Election Act, states in section 21(1) that a person may be nominated as a candidate in any election under this Act if on nomination day the person
     (a)   is eligible to vote in that election,
     (b)   has been a resident of the local jurisdiction and the ward, if any, for 6 consecutive months immediately preceding nomination day, and
     (c)   is not otherwise ineligible or disqualified
DISCLAIMER: It is the candidate's responsibility to read and understand the legislation, or to seek appropriate legal or accounting advice from professionals as required. The candidate is responsible for ensuring that his or her campaign complies with all provincial laws.
Filing a Nomination Form
THE NOMINATION PERIOD IS NOW CLOSED. 
Ward Boundaries
Livingstone Range School Division is divided into 3 wards, represented by 7 Trustees:
Ward 1 - the north-south corridor of the Division (3 Trustee vacancies)
Ward 2 - the far western/Crowsnest Pass region of the Division (2 Trustee vacancies)
Ward 3 - the central region of the Division (2 Trustee vacancies)
Additional Resources
Contact
For more information about Trustee elections, contact:
Jeff Perry
Associate Superintendent, Business Services
403-625-3356
perryj@lrsd.ab.ca