Back to News
Kathy Charchun Retiring from LRSD Division Office
Posted on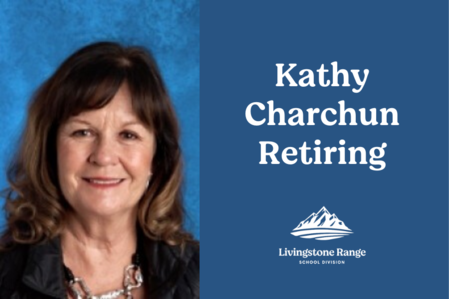 After a rewarding three-decade career as an educator, Livingstone Range School Division Numeracy Lead Kathy Charchun will retire at the end of June.  
Superintendent Darryl Seguin commends Kathy's contribution to the profession. "She was a very effective classroom teacher, school administrator, and division numeracy lead teacher," Darryl says. "In every role, Kathy consistently put students first. We will miss her dedication, sense of humour and collegiality but wish her all the best in retirement."
Kathy looks back on her career with fondness. "This year brings my 30-year journey with LRSD to a close," says Kathy. "I am most grateful for the varied experiences and opportunities I had in LRSD.  The absolute best part of my 30 years is the truly amazing students, colleagues, and parents that I have worked with and made friends with."
Passionate about getting students to love learning, Kathy has promoted a collaborative approach with students, teachers, parents, and staff. Her enthusiasm for math has allowed her to support numeracy learning and success across the Division.
Even though she's retiring, it doesn't look like Kathy will be slowing down much at all. She has accepted a part-time position with both Southern Alberta Professional Development Consortium and Jigsaw Learning. "Although the thoughts of full time on our sailboat or being a more available 'Nana' are still on the horizon, I'm thrilled to have the opportunity to continue with LRSD through these positions," Kathy says.
We wish Kathy the very best in her retirement and look forward to working with her in her new capacities.
Kathy Charchun