Back to News
LRSD Division Office Staff Retiring
Posted on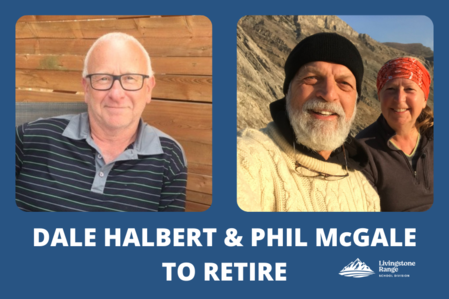 Two beloved LRSD Division Office staff members will be retiring this summer. Dale Halbert (pictured, left) has had a 40-year career as a carpenter with the Division, and Phil McGale (pictured, right) has overseen the Transportation department and safely getting students to and from school for the past 8 years.
Dale began his career in 1981 as an apprentice carpenter and says that he has observed much growth and advancement of the school division over the years. "I've enjoyed the opportunity to work with and build relationships with many people throughout my career," says Dale. "I look forward to spending my retirement golfing, camping, and traveling to warm destinations with family and friends."
LRSD's Coordinator of Facilities, Greg Gorzitza, says that Dale has been an indispensable part of the maintenance team. "Even though Dale is a carpenter by trade, he was versatile and knowledgeable in many areas," says Greg. "The quality of his carpentry work or any other thing he did was always exceptional and he took great pride in the finished product making sure it met his standard. Dale is always friendly and receptive to everyone and could put a smile on anyone's face with his wit and calm demeanor. He is always quick with a comeback remark so you need to be on your toes. He was usually always one up on anyone in that way," Greg says. "More than anything Dale is a great person and we consider him as a great friend."
Dale will retire later this summer. And Greg is a little upset that Dale is retiring before him. ;)
Meanwhile, Transportation Coordinator Phil McGale's last day will be June 25. 
"Phil is a great individual who during his time as the Coordinator of Transportation has made significant improvements in the Transportation area that will benefit the division for many years to come," says Associate Superintendent of Business Services Jeff Perry. "I am grateful for his personal commitment and contributions to getting students to and from school safely and wish him all the best in his new adventures."
Those adventures will be full of variety, as Phil says, "In retirement, there will be temple and genealogy work to do, grandkids to teach, mountains to climb, valleys to explore, fish to catch, birds to photograph, and a plethora of artistic endeavors to complete."
We wish both Dale and Phil all the best in their retirement!