Back to News
Mike Cahoon Named Divisional Coordinator of Transportation
Posted on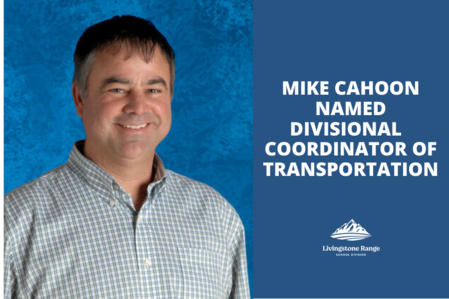 Livingstone Range School Division is pleased to announce that Mike Cahoon has been appointed Coordinator of Transportation. Mike will take over from Phil McGale, who will retire from the position this summer.
Mike has 11 years of experience working in the educational sector of which the last five years have been with Livingstone Range School Division as the Assistant Coordinator of Facilities. 
"Mike is a team player who has demonstrated that as a manager he truly cares about those he works with and strives to help them be successful," says Jeff Perry, Associate Superintendent of Business Services. "In turn, Mike knows this will have a positive impact on students and their educational experience. I know Mike will be a great addition to the Transportation Department."  
With numerous years of managing, supporting, and establishing positive relationships with divisional employees and schools, Mike is well-positioned to assume this role.  Additional experience that will serve him well in this position includes owning and operating a local trucking company for seven years.    
"During my time in the Division," says Mike, "I have consistently been impressed with how the School Board and management use a student-based approach to planning and problem solving. I am looking forward to working with the awesome Transportation Team, and using the 'Every student, every day' motto to safely transport each and every LRSD student." 
Congratulations to Mike on his new role.