Back to News
Programming that Prepares Students for the Future
Posted on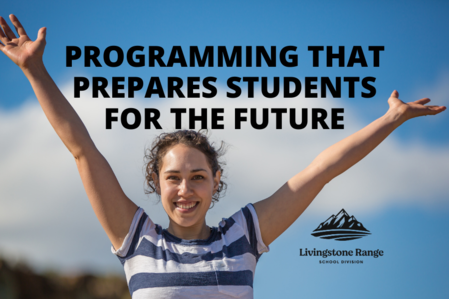 Beyond the core subjects of mathematics, sciences, English language arts, and social studies, providing programming that ignites students' passions and prepares them for life after high school is a central part of the education experience. Livingstone Range School Division's mission "Every student, every day" is our commitment to that meaningful experience for each student.
Chad Kuzyk, Associate Superintendent of Curriculum and Innovation, explains how Career & Technology Studies (CTS) classes combined with certifications and place-based opportunities are critical to prepare students for the future.
"Classes like welding, mechanics, cosmetology, and culinary arts in our high schools provide engagement for students in high school and preparation for the workforce later on," says Chad. "When we add to that pre-employment certifications such as backcountry safety, High Five certification for working with young people in recreation, and the FACES summer education program focusing on character and a growth mindset, we have an exceptional opportunity for young people."
As Livingstone Range School Division seeks to acquire a unique 4.62-acre property in the Crowsnest Pass as a home base for FACES and place-based programs, Chad sees a powerful opportunity to align the property's potential and the Division's programming philosophy.
"For 20 years the FACES program has invited students from Livingstone Range and across Alberta to participate in a life-changing summer education experience. Now we will have a home-base for not only FACES but other experiential learning programs in this incredible natural environment," says Chad. "
Going forward, place-based programming such as current high school Outdoor Pursuits and ski instructor/patrol training could take advantage of the prime location. Future offerings of experiential winter programming, experiential water programming, and environmental stewardship are also planned, along with certification for first aid, wilderness safety, backcountry touring and more.
These programs give students opportunities to explore additional skills and interests that benefit them now and may lead to their future careers. By providing these types of experiential learning opportunities - and particularly in a location like the Crowsnest pass - students benefit in high school and beyond.