Back to News
$100,000 Grant from Suncor Energy Foundation Supports Place-Based Education
Posted on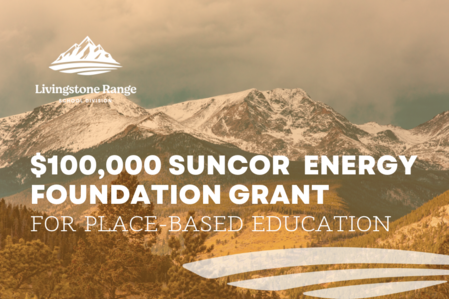 In the Crowsnest Pass, a group of committed citizens and professionals across sectors who believe in lifelong learning are doing amazing things as the Crowsnest Pass (CNP) learning ecosystem. One of their recent celebrations is a $100,000 grant, over three years, from the Suncor Energy Foundation, to support the "school as base camp, community as classroom" philosophy of Livingstone Range School Division schools in the Pass.
"Partnerships like this are the engine of community prosperity," says John Taylor, Off Campus Coordinator for Livingstone Range School Division and a member of the CNP learning ecosystem. "Uniting a community around learning creates incredible opportunities for everyone involved."
The community learning ecosystem, which includes LRSD staff, Municipality of Crowsnest Pass officials, business and not-for-profit leaders, and community members, saw the benefit of membership in the Teton Science School Place Network. This organization, based in Wyoming, partners with rural schools to implement a comprehensive model for education where students have adaptive, innovative, local, and connected opportunities. This place-based learning approach and membership in the Place Network, which includes facilitators and professional development opportunities for local education staff, is a first in Canada. 
"Because the Teton Science School Place Network model fits so well with LRSD's place-based learning approach, we absolutely wanted to bring this to the Crowsnest Pass," says John. "With the help of our ecosystem partners, we connected with the Suncor Energy Foundation  whose generous donation of $100,000 will fund our membership fee, and ongoing support for three years and benefit our students and community for years to come."
The Suncor Energy Foundation grant of $100,000 over 3 years is gifted to the learning ecosystem through the Municipality of the Crowsnest Pass which will manage the funds on behalf of the learning ecosystem. The funds will be used to cover membership in the Teton Science School's Place Network, providing LRSD staff in the three Crowsnest Pass Schools access to facilitation and professional development opportunities that focus on learning in connection with the local culture, ecology, and economy that comprise a community.
Kelli Stevens, Manager of Community Investment and Social Innovation with Suncor Energy Foundation, describes her organization's interest in supporting this type of initiative.
"The Suncor Energy Foundation is keen to support people and organizations that are working together to reduce the impacts of climate change on communities, and increase resilience," says Kelli. "The hub created in the Crowsnest Pass appears to be doing that, and we are excited to see what more comes from the engaged and passionate folks in this region." She adds that a thriving future requires co-creating solutions to energy transition. "If we as Albertans can increase our openness to other ways of thinking and doing things together, we'll all be better off. To that end, the Suncor Energy Foundation sees the collaborative project in the Crowsnest Pass as a model that others might be able to follow."
Although students of Horace Allen School (K-3), Isabelle Sellon School (Gr 4-6), and Crowsnest Consolidated High School (Gr 7-12) will benefit from the grant directly, the professional development can be duplicated across the division through our Place-Based Learning Supervisor Jason Clifton, who is an active participant in the CNP learning ecosystem. 
"Place-based education helps students realize their potential, increase their sense of belonging, and promotes overall wellness," says Jason. "All students can benefit greatly from this model, as they develop adaptability, communication, collaboration, and innovation — skills needed for success in school and employment."
John is excited about how the grant will advance place-based learning in our jurisdiction. "Our partnership with the Teton Science School's Place Network will no doubt accelerate our impact on students and communities across  the Livingstone Range School Division with this place-based approach to learning."
For more information about getting involved with the Crowsnest Pass learning ecosystem, contact John Taylor at taylorj@lrsd.ab.ca.