Back to News
Bell Let's Talk Day 2022: Reduce Stigma & Begin Conversations
Posted on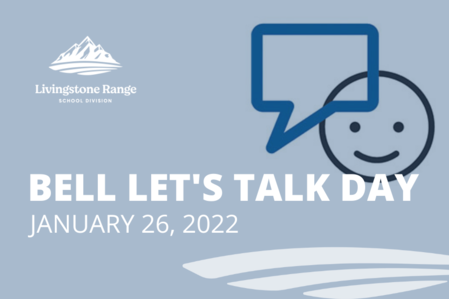 "Throughout the year, our family school liaison counselors bring attention to mental health and wellness," says Dr. Kendra Massie, LRSD Clinical Team Lead and Registered Psychologist. "Through activities and presentations, they are talking about what mental health is and how individuals, communities and families can support it." 
We want to support our LRSD community in understanding how to reduce the stigma around mental health and begin helpful conversations. One resource is Bell Let's Talk Day on January 26, 2022, when people across Canada highlight the importance of education, compassion, conversation, and support for mental health.
The Bell Let's Talk website highlights 5 simple ways to break down the stigma and start a conversation.
Language Matters - Use words that help rather than hurt.
Educate Yourself - Learn about mental illness and how to speak to someone experiencing it.
Kindness is Key - Simple kindness can make a world of a difference. 
Listen and Ask - Be a good listener and ask how you can help.
Talk About it - Be open to a conversation about your own struggles or someone else's.
You can find excellent resources about starting a mental health conversation in Bell's Let's Talk Toolkit, including posters, activities, printable stickers, and social media cover photos. Use these with your family and friends to help reduce the stigma of mental health and begin helpful, healthy conversations.
"In addition, the LRSD Wellness Resources page provides staff and families with updated information and links aimed at optimizing social, physical, and mental wellness," says Dr. Massie. 
On January 26, let's join with Canadians across the country in conversation about mental health and wellness.