Back to News
Bella Storm Receives Honourable Mention in ASBA Awards
Posted on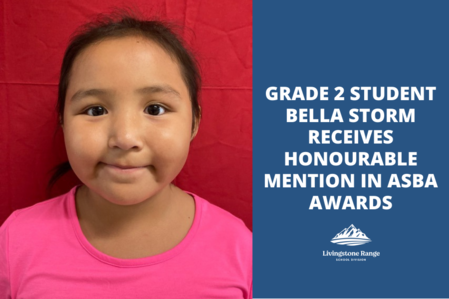 Each year the Alberta Schools Boards Association (ASBA) celebrates exceptional indigenous students based on their exemplary leadership, courage, and commitment to their cultures and educational paths. The Honouring Spirit: Indigenous Student Awards recognize First Nations, Métis and Inuit students "who model strength and commitment in the pursuit of their personal education path and embrace their own gifts, strengths and potential while celebrating the ways of their people" (ASBA website).
This year, Grade 2 Canyon School student Bella Storm received an Honourable Mention in the awards.
Bella was nominated by her teacher, Lorraine Robbins, who says that Bella has shown perseverance and dedication to school, even during this challenging year. " At times during the COVID 19 pandemic, the school buses from the community of Brocket on the Piikani Nation were not transporting students to Pincher Creek, yet Bella, along with her sister were transported to Canyon School daily by her grandparents. Bella did not want to miss school."
Bella works hard in her classroom and has shown significant growth in all subject areas, particularly excelling in Language Arts. Lorraine says, "She reads independently at school, and reads at home daily, verified by her grandparents and by the number of reading minutes submitted to me daily/weekly."
During class discussions, when stories with indigenous content are read aloud, when Indigenous content is shared in subject area content, or when the students are involved in a discussion and the topic arises, Bella often comments on an aspect of her culture and/or her cultural heritage.
"She is not shy about talking about her indigenous culture and advocates for herself and for her culture," says Lorraine.
At such a young age, Bella is not only a role model for other indigenous students, but she is a role model for all students. Thank you, Bella, and congratulations on your Honourable Mention!