Back to News
Bernadette Mariano New Receptionist & Admin Support
Posted on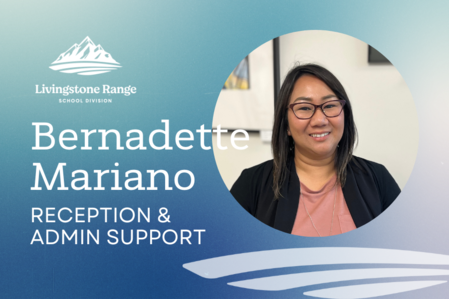 Livingstone Range School Division is pleased to welcome Bernadette Mariano to the team.
Those who come to the G.R. Davis Building or call either for Livingstone Range School Division or the Town of Fort Macleod will be greeted by Bernadette. In addition to being a shared receptionist for both organizations, Bernadette provides administrative support in LRSD. Bernadette holds a Bachelor of Science (Psychology) degree from Adamson University and has worked in human resources and operations management. Prior to joining LRSD she owned and operated Bahay Kubo Day home.
Bernadette believes in combining work with play, and that like children, we all do best when we are playing.
When she is not at work, Bernadette loves spending time with her family creating memories and adding to her family's experiences. They enjoy camping, visiting new places, going for walks in nature, or simply cuddling at home, especially during snow days.
Congratulations to Bernadette on her new role!