Back to News
Every student, every day. Helping Students Find Careers in the Funeral Industry
Posted on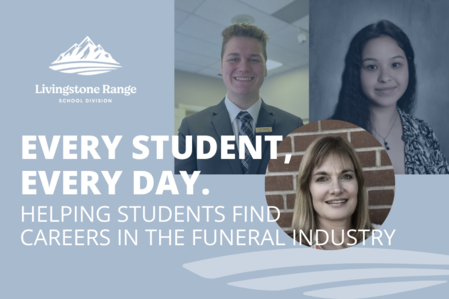 Working in the death care industry might not be the dream of most young people, but Haven Gauthier's interest began when she was 12 years old.
"I first became interested in the funeral industry after the passing of my great grandmother, who I was very close with," says Haven. "It opened my eyes to what funeral service workers could do for others going through loss."
Haven, now a Grade 12 student at Crowsnest Consolidated High School, recently participated in a day-long job shadow at Cornerstone Funeral Home in Lethbridge. The experience was set up by Livingstone Range School Division Career Practitioner Lettie Croskery, who has been working with Haven on planning for post-secondary education in funeral directing.
"Lettie got in touch with Trish Wallace and Travis Zentner at Cornerstone Funeral Home because I really wanted to see what it was like actually working a shift as a funeral director," says Haven. "Lettie talked me into actually going and spending the day there. She even lent me a dress to wear for the day to fit in with the other professional staff."
This is not the first time that Lettie has helped a student explore their career dreams in the funeral industry. When Levi Samis was a student at Crowsnest Consolidated High School, Lettie helped put Levi in touch with students studying in the field, connected him with Cornerstone Funeral Home Director Ralph Zentner, and set him up with a career job shadow day as well.
"Lettie has been a key part to me following my dreams," says Levi, who has since graduated from CCHS. "The job shadow was absolutely incredible. I spent the day with mortuary students, seasoned professionals, and funeral attendants. They really showed me the ins and outs of what to expect when I started working."
Levi is now working in the death care industry. Although a high school career aptitude test suggested that Levi might be destined to be a mortician, he has had to make a few personal changes for this line of work.
"During my job shadow I was shown that the expectations set were very strict and professional," says Levi. "I knew I would have to change parts of myself to be successful.  I removed my piercings and no longer coloured my hair whacky colours. It was something I was willing to do. It's a precedent for Funeral Service that people should know before starting in the field."
Lettie says that making the 'right' match with students to potential careers is a true love for the LRSD Career Practitioner team. "We are proud to be developing a 'Human Library' of connections in our community and in other parts of the world who are involved in careers that our students may find interesting," says Lettie. "We believe that connecting students to 'real world' employees — many of whom are LRSD graduates — is so helpful in becoming more familiar with the wide range of career options available after high school graduation."
Haven's job shadow experience has helped her see this career will be a good fit for her after high school. 
"The job shadow went incredibly well. I feel even more compelled to pursue funeral directing and working in the funeral services. I am very eager to start schooling after high school and start looking for a job in a funeral home," Haven says. "I definitely learned that life as a funeral director is not quiet and slow. I saw many different aspects of the job and [the staff at Cornerstone] were very gracious to show me everything. In the morning, I helped clean and get the chapel read for a service that was going to take place later on that day, and then I washed the cars before they headed to a grave-side service."
Haven did so well, in fact, that several Cornerstone staff thought she was a trainee starting her career. The dress from Lettie and Haven's interest in serving families truly helped her fit in.
"The opportunity for students to gain first hand knowledge and experience is pivotal for their career development," says Lettie. "How can we truly know what is involved in a career if we have no exposure to it?"
Both Haven and Levi wish to express their gratitude to Cornerstone Funeral Home for their opportunities, and especially to Lettie for her enthusiasm and support. Through her commitment to "Every student, every day" Lettie is making a big difference for students and helping them realize their dreams now and after graduation.