Back to News
Granum Fire Academy Graduation 2022
Posted on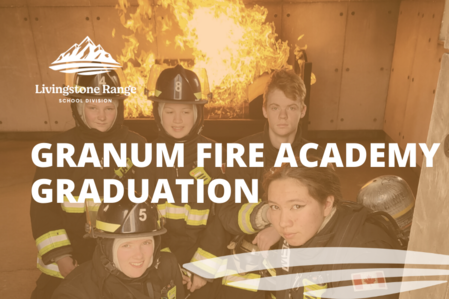 On June 20, 2022 the Granum Fire Academy celebrated its first graduating class. 
Five Livingstone Range School Division students took part in the National Fire Protection Association Fire Fighting 1001 Level 1 course, completed NFPA 1072 Hazardous Materials Awareness, Operations, and First Aid.  
The commitment and dedication of these students were remarkable. They met almost every Friday when all their peers were out of school and they were in class. Never complaining, or skipping out, they were always so eager to learn and put in the extra hours. They gave up a number of Saturdays as well to practice their skills and write their exams.  
Anna Hoskin, F.P. Walshe Gr. 11
Colton Laidley, J.T. Foster Gr.12
Rachel Ling, WCCHS Gr. 11
Shaylee Tenecyke, Mathew Halton Gr.11
Trinity Nicholas, F.P. Walshe Gr.11
Granum Fire Academy instructor Shannon Fraser is proud of these students' achievements. "I have watched them all grow so much as students, future firefighters, and humans," says Shannon. "Each of them had to push themselves, take risks and learn to trust their team members. Learning very quickly that this is not a job you can do alone; it takes a team, it takes trust and commitment from all. They did things that I think surprised even themselves that they could do it: some conquering fears and some finding their passion."
Congratulations to all the Granum Fire Academy graduates!
Fire Academy 2021-2022