Back to News
Homegrown Patrol Program for LSA Students
Posted on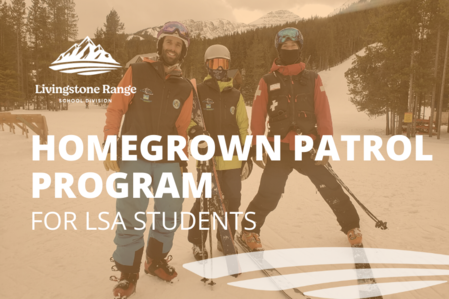 Livingstone School and Livingstone Ski Academy (LSA) are proud to announce the launch of the new Homegrown Patrol Program which debuted on February 7, 2022.
Student-athlete Ira Davidson (pictured, center) will complete four sessions, on-snow, where he will learn about the duties of the patrol, hazard mitigation/control, first aid, snow safety, and avalanche control. Alexander Curtis (pictured, right), professional ski patrol at Castle Mountain, is excited to share a wealth of knowledge with Ira over the course of the four-week practicum. Alex will be on-call during the practicum so the pair will be responding to emergencies as they arise.
LSA Coordinator Andrew Bennett (pictured, left) explains that "LSA plans to expand the program to many other students in the future and will collect feedback from both Alex and Ira to help shape the program moving forward".
Jason Clifton, Supervisor of Place-Based Learning for Livingstone Range School Division commented that "We are extremely excited about the experience that this will provide and the doors that this will open for our students. A huge thank you goes out to Claire Clarkson, Madeline Martin, and Alex Curtis for envisioning and creating the Homegrown Patrol Program. Partnerships such as the one demonstrated here between the LSA and Castle Mountain Ski Patrol are a great asset to the school division and the community."