Back to News
Horace Allen School Receives $10,000 Grant for Place-Based Learning
Posted on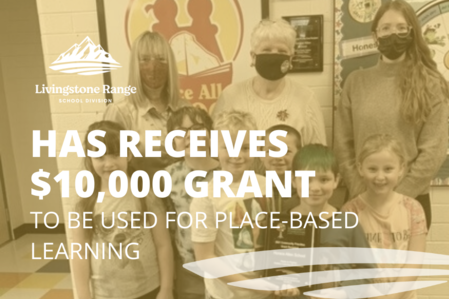 Horace Allen School has been working for the past 3 years on school-wide initiatives to build responsibility, resilience, inquiry, and respect for nature in our students. These goals are aligned with the "Forest Schools" ethos and place-based pedagogy that Livingstone Range School Division has embraced as one of our 'core values'.
Recently, the Community Foundation of Lethbridge and Southern Alberta has awarded Horace Allen School a grant of $10,000. These funds will ensure continuing development of a previously unused field adjacent to our school into a barrier-free, cross-curricular, multi-ecosystem nature space conducive to connecting our K-3 students with their natural environment.
Although COVID-19 significantly impacted our progress, we were able to plant several trees as the beginning of our 'enchanted forest' and begin formation of the mountain ecosystem, log desk classroom and stump tables and stools meeting area! We are hoping to continue work towards a nature-infused meeting place with sensory and musical pathways, a butterfly garden, a rain exchange water conservation system, raised garden beds for each grade level, representative zones from mountain alpine to wetland riparian ecosystems, an indigenous history area, local coal mining history features and an archeological/paleontological dig area. Our project is evolving as we recognize modifications needed to accommodate priorities changing in our world, actually increasing the need, value and research-based educational applications of our outdoor project!
Our nature-based 'path' has led the other 2 schools in our community to follow and we now have a tri-school group working with University of Lethbridge professor Dr. Sharon Pelech and her colleague, Dr. Darron Kelly of Memorial University in St. John's, Newfoundland in their work on place-based pedagogy. We have received 2 Alberta Teacher Association grants (Communities of Practice 2019 and Diversity, Equity & Human Rights 2020) attached to our project! We partnered with the Nippon Institute of Technology (22 third-year architecture students from Japan designed and built a garden shed) and Olds Horticultural College (21 students created designs for our field in their Sustainable Sites class). Prior to COVID we held several school fundraising outdoor activities as well as participated in several community events with our project name!
Through the Alberta Council of Environmental Education (ACEE) we have benefitted from the "Connecting Professionals to Classrooms" program with a landscape architect from Edmonton assisting our work! He had met with our students last February with plans to hold native plant and tree planting workshops, enabled by an Alberta Native Plant Council grant, with students and their families last spring but that was cancelled due to the pandemic. He still hopes to do so this spring if conditions allow!
Receiving the Community Foundation support, not only through the monetary award, but also their belief in our project values gave us confidence, credibility, and recognition by people and groups who otherwise may not have taken notice! Being chosen by the Community Foundation has been a bright spot in our project journey! 
Elaine Garner, Lesley Margetak, Bernice Dunbar
Horace Allen Outdoor Learning Environment Committee