Back to News
How a School Division Can Afford to Buy a Mountain Property
Posted on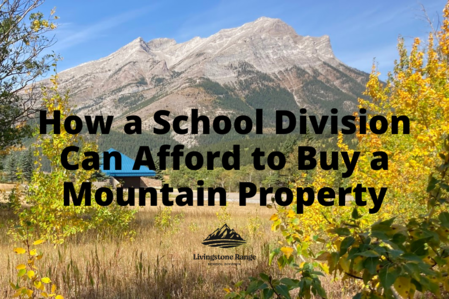 As Livingstone Range School Division seeks to acquire an exceptional property in the Crowsnest Pass for student programming, there may be concerns about funding such an opportunity. 'How can a school division afford this?' some may ask.
"In these times of fiscal uncertainty, we want to reassure our stakeholders that no cuts will be made to any programs to fund the acquisition or operation of the Crowsnest Pass property," says Jeff Perry, Associate Superintendent of Business Services. "This opportunity will not come at the expense of any other programs or student services."
As a Division, we are committed to innovation and collaboration, as well as place-based education opportunities for students and believe this opportunity aligns very well with our core beliefs. To clarify funding for the proposed purchase of the 4.62-acre property south of Highway 3, LRSD has provided answers to some frequently asked questions and concerns about the project funding.
1. Where will the funds come from to purchase the property from the provincial government?
The first source of funding will come from the disposal of other surplus divisional property, such as the old division office in Claresholm. Then, capital reserves currently being held to acquire future capital assets for divisional programming will be accessed. 
2. Will money be taken from classrooms and salaries to pay for this project?
No. No operational funding will be used in the purchase of the property. No cuts will be made to any programs in order to fund this project. 
3. Is fundraising an option to help pay for the purchase of this project?
Yes. Ongoing fundraising efforts through the FACES summer education program (which will be the first program to use the facility)  will decrease the amount of capital reserves required to fund this purchase. Anyone interested in donating to LRSD in support of FACES programming and this home-base facility can visit https://www.lrsd.ca/services/lrsd-pursuit/donate.
4. How will LRSD pay for the ongoing operating and maintenance costs of the facility once you purchase it?
The operating costs will be covered through the revenue received from the programs utilizing the property.  Expanded programs being added over time will be developed to ensure there is a cost-recovery element to support any additional expenditures.
5. Will you consider community/corporate partnerships for this facility?
Yes. We seek opportunities to partner with community and corporate organizations to enhance the programs being offered from this property as well as to add value to the surrounding communities. 
"We believe that this property is an investment in the best sense of the word," says Jeff. "Not only does it make good use of our capital reserves as an asset, it really is an investment in the educational programming available to our students and community."
Continue to visit www.lrsd.ca for updates and additional information.