Back to News
International Dyslexia Screening Research Study
Posted on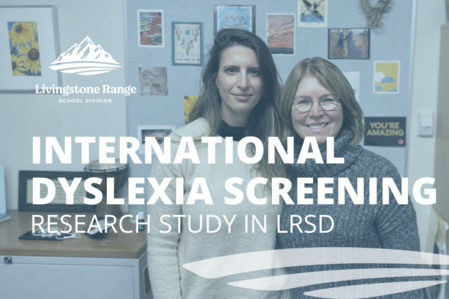 You'd never know that the Livingstone School Principal's office is the site for a dyslexia screening study that originated in Greece and Harvard University in Massachusetts.
Dr. Deborah Karrah (pictured, right) and PhD student Andriani Rina (pictured, left) are working with students in Livingstone School and other LRSD schools as part of their research on developing a screening tool for dyslexia. 
Dyslexia is a neurological and genetic condition that causes difficulty in word reading accuracy and/or fluency. Early detection and diagnosis means that interventions and supports can be put into place to help a young person be more successful and confident in learning.
Collaborating with an interdisciplinary team from Greece and working under the direction of a neurologist and medical doctor at Harvard, Dr. Karrah (who lives and works in southern Alberta) and Ms. Rina (a Greek national) use eye tracker software to easily screen students for dyslexia.
With parental permission, a student simply sits at a desk with a laptop and commercially-available eye tracker hardware, and looks at pictures as well as reads age-level words and sentences. The software measures how long the eyes stay on certain combinations of letters, the time spent on specific words, and how many times the eyes go back and forth. The results then become part of the research study data and assists the researchers in development screening texts.
In Greece, this technology is already the official screening tool for dyslexia. It is in the study phase in Canada, the United States, the United Kingdom, and South Africa to train computer algorithms in various English dialects.
A traditional diagnosis of dyslexia here in Canada requires a psychologist to administer a battery of tests that can take 2-4 hours. The time, stress, and cost for families can be daunting. A dyslexia diagnosis can also be an umbrella term when the issue is actually a different learning difficulty.
What Dr. Karrah and Ms. Rina and their team are developing would take 25-30 minutes for a student with a learning difficulty, is non-intrusive, quick, reliable, and fun for kids. Ideally, once this tool passes the study phase and is approved for us, teachers could be trained to easily do the screening, which is 95-99% accurate in detecting dyslexia.
So far, the team has screened more than 150 students in Livingstone Range School Division. Dr. Karrah and Ms. Rina enjoy working with the students and say that the kids are first and the program is second. They are open to working with more students across the Division; schools can contact Director of Learning (Support Services) Lisa Furukawa for contact information.