Back to News
Jordan Gunderson Named Director of Finance
Posted on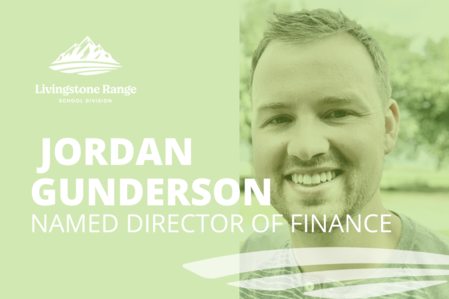 Livingstone Range School Division is pleased to announce that Jordan Gunderson, CPA has been appointed Director of Finance and will begin his role on January 24, 2022.
Jordan holds a Bachelor of Science Degree and Professional Diploma in Accounting both from the University of Lethbridge and a Chartered Professional Accountant designation from CPA Western School of Business. He has worked as an accountant in the private sector and most recently as Business Analyst for Lethbridge College.
"We are excited to welcome Jordan into the LRSD family and look forward to how his character and skill set will benefit our organization," says Jeff Perry, Associate Superintendent of Business Services. "Not only does Jordan bring with him the skills and experience to do the job but also a great desire to give back to the division and communities that helped prepare him for this opportunity."
Raised in Fort Macleod, Jordan attended W.A. Day Elementary, G.R. Davis School, and graduated from F.P. Walshe School. He volunteers in Fort Macleod as a coach and alumni volleyball tournament organizer, and currently serves as the President of the Fort Macleod Preschool Society.
"This role represents an opportunity to use my skills and expertise as an accountant to benefit the learning experiences of the students in the communities that have been such a major part of my life," says Jordan. "I am supporting the future leaders of our communities and our province and I can only describe that as both humbling and exciting."
In his free time, Jordan loves to play volleyball, basketball, exercise on his rowing machine, and play video games! "My kids are getting old enough to share most of my interests," he says, "and I enjoy them even more now!"
Congratulations to Jordan on his new role.