Back to News
Land-Based Learning Excites in LRSD
Posted on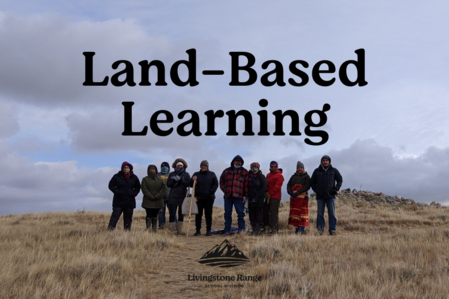 "There's so much to be learned and understood from the land and from nature," says Sandra Lamouche, FNMI Success Coordinator for Livingstone Range School Division. "We gain a greater appreciation for the environment and the history of our own people."
Land-based learning - getting outside the classroom to learn traditional skills and connection to the land - is gaining momentum in LRSD. This fall, staff from across the Division met outdoors with elder Harley Bastien, who taught about environmental harmony and balance, focusing on traditional knowledge and his experience working in the Alberta environmental protection industry. Mr. Bastien sits on the Alberta Environmental Monitoring and Science Indigenous Wisdom Environment Panel, and his message to staff emphasized the importance of environmental stewardship and traditional knowledge.
Students are excited by land-based learning opportunities as well. Students in Pincher Creek and Fort Macleod helped set up a tipi with guidance, lessons, and stories included. Grade 1 students went on a nature walk to learn how Indigenous people learn from nature.  Teachers in Stavely and Claresholm participated in a "Reconciliation Walk: Mapping the Calls to Action in Community".
In October, a traditional tipi was set up at the Division Office in Fort Macleod. It's being used by teachers and students as an outdoor classroom to promote education, social interactions, and environmental awareness. Watch a time-lapse video of the tipi being set up here.
Through culturally-relevant and environmentally-based curriculum, students learn math, science, art, history, language, and more. And then have so much fun doing it!
"Land based learning helps to make learning come to life and makes it more memorable," says Sandra. "You can do a worksheet on different types of trees, directions and seasonal changes, but if you can go outside and see the leaves changing and falling, birds migrating, sun rising and setting, and feel the air and temperature, you will have a better understanding of those concepts."
The Division's FNMI Committee and Research Partnership with Mount Royal University has focused on land-based learning for some time now. Recently, they visited "Iniskim Umaapi" near Bassano, Alberta to learn from elder and University of Lethbridge PhD candidate Mike Bruised Head. Mr. Bruised Head shared the history of this incredible ancient site (also known as Majorville Cairn and Medicine Wheel and sometimes referred to as Canada's Stonehenge), its spiritual significance for the Blackfoot people, and how its use was impacted through colonization.
"Land-based learning is important because we rely on the land for everything," Sandra says. "Our landscape shapes our culture and identity, how we live, and what we do on a daily basis. Not just for Indigenous people, but for all people."
It's easy to experience land-based learning for yourself by getting outside and exploring nature. See what you can learn from your environment!
For more information, contact FNMI Success Coordinator Sandra Lamouche at 403-625-3356.