Back to News
Livingstone Leaders Retreat 2022
Posted on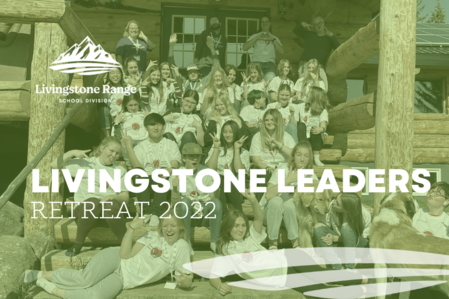 By Cordelia Yip, F.P. Walshe School Student
The Livingstone Leaders, a student leadership group representing the Livingstone Range School Division, participated in an overnight retreat from October 6-8, 2022. Students, along with a teacher advisor from each school, attended and participated in the virtual Canadian Student Leadership Conference (CSLC).
CSLC is Canada's longest-running national conference for high school students, originally founded in 1983. The annual conference hosts various committed educators and ambitious students from across Canada and is held in a different location each year. CSLC has a vision of building and inspiring a strong community of student leaders across the country who actively contribute to the betterment of their schools and society. 
Throughout the conference, they listened to various keynote speakers, such as Jully Black, a Canadian singer, songwriter, producer, and actress. Another speaker that spoke for CSLC is Melanie Sodka, the founder of Capacity Creator Corp, an education and consulting company. 
Each speaker talked about their life experiences and gave advice about how to become an active leader. All of which provided the participants with thought-provoking questions and quotes to encourage individuals to learn about themselves and their limitations. 
When students were asked about their favorite keynote speaker, Jasmine Anchoris said, "Definitely Jullundur Black. She was so, so relatable and I think that's what made her talk so engaging. I feel like I took a lot more of what she had to say to heart than some of the others because she was somebody I wanted to listen to."
Apart from listening to keynote speakers on the screen, the Livingstone Leaders explored the nature of Gladstone Ranch by going on walks, playing sports outside, and taking part in cooperative activities. The nature at Gladstone Ranch provided a large space for the students to interact with each other and engage in the activities. 
"I thought the retreat was so fun! It helped to get me out of my comfort zone. I got to meet people across the division and strengthen relationships with people. I learned many ideas that I could bring back to my school! It gave me more self-confidence too because I had to, like, converse with people that I don't know very much and sing in front of people which is very uncomfortable," said Tessa Muirhead. 
Livingstone Leaders Retreat 2022