Back to News
Measurement Survey 2022 Results
Posted on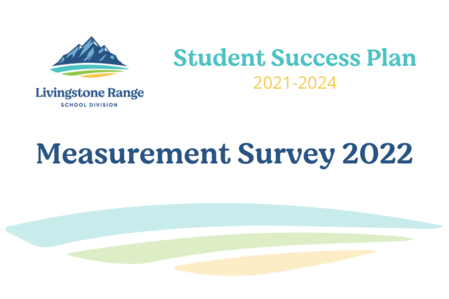 Thank you to all of our staff, parents, and Grade 11 & 12 students who participated in our Student Success Plan Measurement Survey 2022. From May 11-20, 2022 these stakeholder groups were invited to provide feedback on progress toward select goals in the Livingstone Range School Division's Student Success Plan 2021-2024. This is the first school year that the plan has been in place and this Measurement Survey is our first opportunity to reflect on how we are doing.
712 respondents provided feedback to questions in our priority areas of Safe & Caring, Engagement, and 21st Century Knowledge, Skills, and Attributes (Life Skills). We are pleased to report the results.
Staff responded that the Collaborative Response to student support - which includes regular meetings about and a coordinated approach for student success - is beneficial and becoming an integrated part of their work in schools.
Students, parents, and staff are aware of and find positive benefits from Family School Liasion Counsellors, who help optimize the learning, development, and well-being of students. Our efforts to provide place-based learning opportunities for all students and pre-employment/workplace certification offerings for high school students are relevant and rewarding.
All parents were asked about high school certificate offerings, however, the question was only applicable to high school students and some of the parent respondents who only have elementary children were not aware of the high school certificate offerings. This affected the results and we will learn from this when designing future surveys.
The results of the survey will be shared with Division Office and school-based departments as we work toward continuous improvement and success for "Every student, every day."
Click here to see a report of the Measurement Survey 2022.