Back to News
Measuring Student & School Performance
Posted on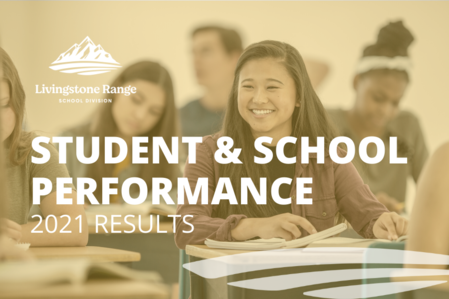 Livingstone Range School Division schools and students are performing very well, according to the Alberta Education Assurance Measures survey and our own Measurable Results Assessment results. Teachers, parents, and students participated in these surveys in the spring and fall of 2021.
"We are pleased with these results and what it means for our students," says Chad Kuzyk, Associate Superintendent of Curriculum & Innovation. "Our schools are providing a high-quality education in safe and welcoming environments, and students are good leaders and citizens with increasing academic achievement."
The spring 2021 Alberta Education Assurance Measures results indicate that in most areas LRSD is meeting or exceeding provincial averages. In categories such as Citizenship;  Education Quality; Welcoming, Safe, and Caring Schools; Access to Supports and Services; and Parent Involvement LRSD is performing at or above the level of other school jurisdictions in Alberta. In terms of School Improvement 84.5% of LRSD teachers, parents, and students say that their school has improved in the last three years. High school completion has improved significantly, and students being prepared for the workforce after high school has also increased.
"Our efforts to improve student academic performance, school culture, and leadership growth opportunities are paying off," says Chad. "School administrators and staff, students, and families are helping to improve the educational experience in our schools, and we are grateful for everyone's efforts."
The fall 2021 Measurable Results Survey (MRA) is a snapshot of current performance that will be administered annually. This tool identifies strengths and weaknesses that allow the Division and schools to develop improvement plans and monitor progress. Participants were asked to rate their school in terms of Leadership, Culture, and Academics. The fourteen schools in our jurisdiction saw results from 64 to 87% success overall.
"These MRA results provide a benchmark as we use this tool to measure performance over time," says Chad. "In many areas schools are already doing an excellent job of supporting students' academic and leadership development as well as creating a supportive and inspiring school culture."
Summaries of schools' Annual Education Results Reports (which include the Assurance Measures) can be found on individual school websites.