Back to News
Michelle Hedley Now Admin Asst for Transportation & LRSD Pursuits
Posted on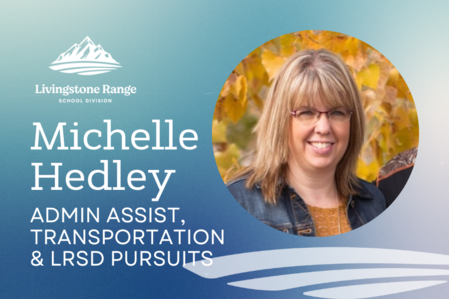 Livingstone Range School Division is pleased to share that Michelle Hedley, former LRSD and Town of Fort Macleod receptionist has taken on new responsibilities with the Division.
The friendly face and voice who has greeted guests and callers at the front desk since 2018, Michelle has now serves in the role of Administrative Assistant for Transportation and LRSD Pursuits (Virtual School), Summer School, Home Education, and more. She brings over 20 years of administrative experience and is proficient at keeping things running smoothly. Michelle enjoys the fast-paced atmosphere and welcomes new challenges as they arise. 
Outside of work she enjoys spending time with her family, travelling, and relaxing with a good book. She is proud to call Fort Macleod home for over 25 years and is always humbled by the kindness of those in the community.
Congratulations to Michelle on her new roles!