Back to News
Minister's Advisory Councils 2021/2022
Posted on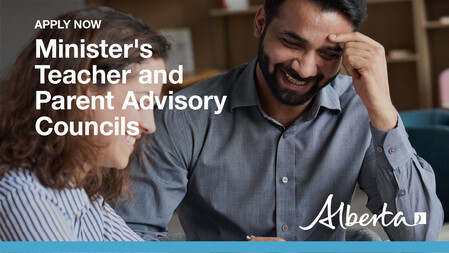 Building on the success of the Minister's Youth Council, which sees high school students from across Alberta working with Education Minister Adriana LaGrange to help make our educational system the best it can be, the Minister is now inviting teachers and parents/guardians to join her on two new advisory councils.
In a letter to school boards and stakeholders, Minister LaGrange said, "We are looking for 40 teachers and 40 parents/guardians with a diverse range of voices and with a broad range of life experiences, knowledge and skills from across Alberta. Representation will include geographical location, school authority, cultural origins, socio-economic backgrounds and Indigenous and Francophone voices."
Interested individuals can apply until August 31, 2021.
Visit the Alberta Education website for full details and application.