Back to News
Minister's Youth Council 2021
Posted on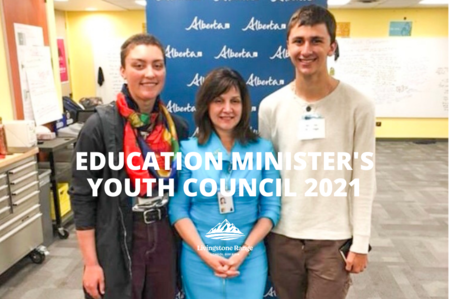 Are you a Junior or Senior High school student between the ages of 14 and 19 who wants to contribute to education in Alberta?
The Education Minister's Youth Council is now recruiting for the 2021-2022 year. Forty students will be selected to build their leadership skills at the provincial level, make an impact on education, and leave a legacy for the future.
LRSD's own Nick Housenga (pictured, right) has been a part of the Minister's Youth Council for the 2019-2020 and 2020-2021 school years. With his Council experience, Nick shares some of the great things about the MYC. 
"The best part of the Minister's Youth Council is the people," says Nick. "Each session has had a unique group of students, many of whom have become close friends of mine and have provided me with connections to other exciting opportunities."
Nick feels that a spirit of openness is an important quality for those interested in applying for the MYC. "Each session includes incredible seminars that highlight different parts of the education system," Nick explains. "Students' job is to take the information provided to them and give suggestions on it from personal experience. Students do not need to have a clear vision of exactly what they want to advocate to the Minister going into the council —although they certainly can if they want to."
When asked what advice he would give to a student considering applying to MYC, Nick says that in the essays, you don't have to have the most unique or intriguing experiences: "It's more about being able to draw on the experiences you have had and articulating how you learned from them."
Will you be the next LRSD student on Minister LaGrange's youth council? During the school year, the council attends 3 meetings (depending on COVID-19 these may be in-person or virtual) and provides their perspectives on a number of education topics. Students of diverse interests and perspectives from all regions of Alberta develop a greater understanding of Alberta's education system, see their role in driving change, and develop new relationships with a diverse group of students and adults.
The application deadline is March 24, 2021. Details and application information are available at https://www.alberta.ca/student-engagement.aspx.