Back to News
Second Confirmed Case of COVID-19 at WCCHS
Posted on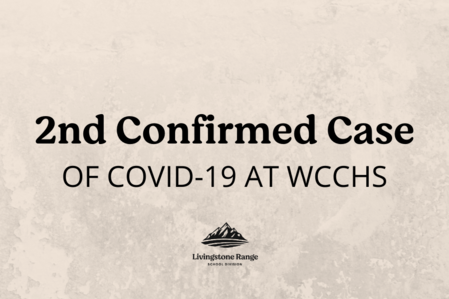 A second case of COVID-19 has been confirmed at Willow Creek Composite High School (WCCHS). Currently, it does not appear that the individual contracted the virus in school but rather was exposed to and contracted the virus outside of school. As this is the second case within a 14-day period, this is classified as an outbreak.
WCCHS is working with Alberta Health Services on contact tracing. Those students and staff members considered close contacts of the individual will be contacted directly and given direction related to quarantining.
Over the weekend, both Livingstone Range School Division schools in Claresholm (Willow Creek Composite and West Meadow Elementary School) received a deep cleaning and disinfecting from our maintenance staff. Ongoing cleaning and sanitizing will continue, in compliance with provincial guidelines.
During this period, WCCHS remains open and learning continues. While those isolating at home will be teaching and learning virtually, the rest of the staff and students are having in-person classes as usual. Those classes where teachers are quarantining at home will have the unique experience of participating in a class with their teacher joining them virtually. These classes will have an in-person supervisor to assist in the learning process.  The administrators of WCCHS have worked to ensure proper coverage for all classes so that the academic year can go forward.
On behalf of the LRSD Board of Trustees, Senior Administration, and school administrators, our thoughts are with the confirmed individual and we wish them a speedy recovery.
For more information about COVID-19 precautions and LRSD's response to confirmed cases or outbreaks, see the 2020-2021 School Re-Entry Plan at www.lrsd.ca.