Back to News
Student Justice Luther Wins ASBA Indigenous Award
Posted on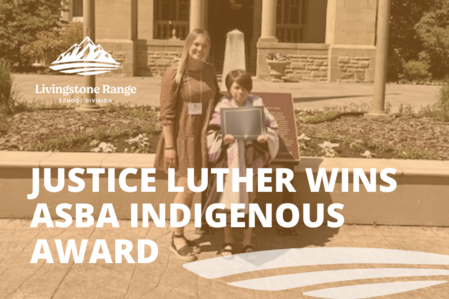 Each year the Alberta Schools Boards Association (ASBA) celebrates exceptional indigenous students based on their exemplary leadership, courage, and commitment to their cultures and educational paths. The Honouring Spirit: Indigenous Student Awards recognize First Nations, Métis and Inuit students "who model strength and commitment in the pursuit of their personal education path and embrace their own gifts, strengths and potential while celebrating the ways of their people" (ASBA website).
This year, Grade 2 W.A. Day Elementary School student Justice Luther is a winner of the Honouring Spirit: Indigenous Student Awards.
Justice was one of twelve students selected for the award out of 270 nominations from across the province. Each recipient was recognized with an award certificate and congratulatory letter; a unique hand-crafted Star Blanket; and an honorarium.
Read more about the Awards and see a photo of all the recipients here.
Congratulations to Justice!