Back to News
Susan Craig Named Accounts Payable Clerk & Administrative Assistant
Posted on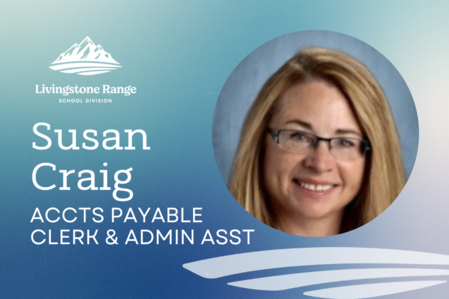 Livingstone Range School Division is pleased to announce that Susan Craig has been named Accounts Payable Clerk/Administrative Assistant for Livingstone Range School Division central office.
Susan has an Administrative Assistant degree from Mount Royal, with experience in law firms, telecommunications, business services, and school administrative assistant roles. She has worked in LRSD for the past 14 years at W.A. Day Elementary School.
"We have been lucky to have Susan fill in at our finance office recently," says Jordan Gunderson, Director of Finance. "In a short time, she has shown that her strong work ethic, positive attitude, and ability to learn new software and processes will be an invaluable asset to the Finance Department. Susan brings with her years of direct experience in our schools and we know that her ideas and knowledge will be critical as we work to better support our schools and 'Every student, every day.'"
Although Susan will miss working with the students and staff at W.A. Day, she acknowledges that "Nothing is permanent except change" and adds, "It will be good to learn a new position and challenge myself," says Susan.
Susan is married to Don and the couple has two children: Ben, who is apprenticing to be a mechanic at Scougall Motors in Fort Macleod; and Amy, who attends St. Mary's University in Halifax. Susan is an artist and jewelry maker who feels lucky to share her house with Toby the wonder dog and a cat named Dior.
Congratulations to Susan on her new role!