Back to News
Trustee Toone Nominated for ASBA Vice-President
Posted on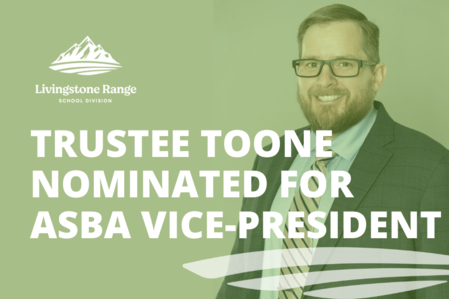 Livingstone Range School Division Trustee Brad Toone has been nominated for the position of Vice-President with the Alberta School Boards Association (ASBA). The role would allow Brad to bring his strong leadership skills and collaborative approach to help benefit school boards across Alberta.
Brad has served as a Livingstone Range School Division Trustee for eight years, including four years as Board Chair and one year as Vice Chair. He has worked with ASBA for four years on the Board of Directors and is currently the Zone 6 Director.
ASBA offers support and builds the capacity of school boards and individual trustees, ranging from advice and training to leadership, development, governance and advocacy. As Vice-President, Brad would bring his commitment to transparent governance, fiscal responsibility, and ensuring all voices are heard.
LRSD Board of Trustees Chair Lacey Poytress sees great value in Brad's leadership and inclusive approach. "In his leadership roles Brad seeks first to understand," says Lacey. "He is an empathetic listener and values all voices at the table. While he does not shy away from sharing his thoughts, his strategic listening cultivates insightful and thought-provoking conversation. Brad is an asset to every board and committee he sits on."
The Livingstone Range Board of Trustees fully supports Trustee Toone's nomination to ASBA Vice-President. Each of Alberta's 61 school boards gets one vote for ASBA President and Vice-President. The term of Vice-President is two years and the elected can serve no more than two consecutive terms. ASBA election day is Monday, November 15, 2021. We wish Brad all the best in this opportunity.