Back to News
Trustees Advocate for 'Hold Harmless' Year
Posted on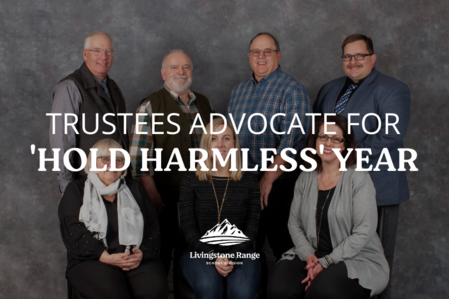 The Livingstone Range School Division Board of Trustees is requesting that Education Minister Adriana LaGrange consider the 2020-21 school year a 'hold harmless'  year due to the COVID-19 pandemic. 
Under the recently implemented funding framework, Alberta Education uses a Weighted Moving Average for Kindergarten to Grade 12 instructional activities in a school jurisdiction. This means that the budget for Livingstone Range School Division is made of projected enrolment for the upcoming school year (50%), plus estimated enrolment from the current school year (30%), plus actual enrolment for the prior school year (20%).
With the uncertainty due to the COVID-19 pandemic, more students are enrolled in at-home learning and Home Education, which have ripple effects for our planning. For example, with an increase in at-home learning students, more teachers are required so that in-person classrooms have a teacher, and at-home students have an online teacher. Additional staff are required to meet these needs. Where parents choose Home Education for their child, the School Division and the parent receive modest funding to cover the educational costs for that student.
Although our student enrolment numbers are somewhat fluid due to the pandemic, current reports indicate that across the Division more than 400 students are taking part in at-home learning, and approximately 100 students are enrolled in Home Education (up from around 25 last year). 
The Board of Trustees is concerned about the negative impact this shift in student enrolment may have in the funding framework, specifically as it relates to the Weighted Moving Average in years two and three. They have asked that the Ministry consider the 2020-21 school year as a 'hold harmless' school year so that the above concerns do not negatively impact students due to a decrease in future funding.